Clarksville, TN – Yesterday, November 7th, 2016 at 11:13am, Clarksville Police Officers were dispatched to the Sango Pharmacy on Madison Street near the Richview Road intersection due to an E911 call about an Armed Robbery.
A white male with a handgun wearing a camouflage hat, square glasses with dark rims, and a gray shirt robbed the pharmacy. Immediately the District 3 Criminal Investigations Unit with the assistance of the District 3 Patrol Officers jumped on strong leads that led them to the suspect.
Just a few hours after the robbery, 39-year-old Robert Binkley from Hermitage, TN was taken into custody and then later booked into Montgomery County Jail.
When the investigation was complete, there was enough evidence to link Binkley to the Sango Pharmacy Robbery that occurred on October 19, 2016.
At this time, he has been charged with Aggravated Robbery, Reckless Driving, and Simple Possession/Casual Exchange. His total bond amount is $52,500.
Detective Channing Bartel was the lead investigator. If anyone has additional information related to this incident, please call Detective Bartel at 931.648.0656 Ext 5144, or call the CrimeStoppers TIPS Hotline at 931.645.TIPS (8477). You can also go to the CrimeStoppers website at www.p3tips.com/591.
Robert Binkley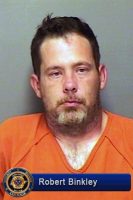 Name: Robert Binkley
Gender: M
Race: W
Address: Homeless, Clarksville, TN
Arresting Officer: Bartel
Charged With: Aggravated Robbery, Reckless Driving, Simple Possession/Casual Exchange
Booked Into: Montgomery County Jail
Bond: $52,500.00