APSU Sports Information
Clarksville, TN – Austin Peay State University's volleyball team saw its offense held in check and dropped a three-set (17-25, 22-25, 24-26) Ohio Valley Conference decision to SIU Edwardsville, Friday night at the Dunn Center.

Austin Peay (22-10, 11-4 OVC) never saw its offense get on track from the match's opening moments. The Govs opened the match with only 12 kills in the first set and were held to a .075 attack percentage as SIUE led wire-to-wire thanks to a five-block outing.

SIUE (20-6, 13-2 OVC) posted 15 kills and a .367 attack percentage to opening the contest and kept the heat on in the second set. The Cougars posted 16 kills and a .245 attack percentage in the second frame. SIUE used a 5-0 run early in the set to build a 7-3 lead and nursed that advantage to the wire, winning 25-22.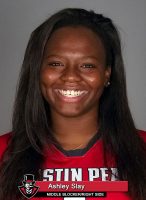 Austin Peay showed some grit in the third set, using an 8-2 run to rally from an early deficit for an 11-7 lead. SIUE bounced back with seven of the next nine points to take a 14-13 lead. The Govs again rallied late with a 4-1 burst to tie the set 24-24. But SIUE's Taylor Joens posted back-to-back kills to end the match.
The Governors were held to 39 kills and a .099 attack percentage in the contest, their worst outing since the season's first meeting with SIUE. Junior Ashley Slay had eight kills, but was charged with six attack errors and finished with a .062 attack percentage.
SIUE disrupted the APSU offense with a 15-block outing and swept the defensive battle with a 71-65 edge in digs. The Cougars tacked on 45 kills and a .226 attack percentage.
Joens led SIUE with 15 kills, was charged with one attack error and finished with a .467 attack percentage. Emily Harrison chipped in 12 kills.
Inside The Box Score
Ebright's Senior Night

Sammie Ebright put together a solid showing on her senior night, posting five kills against only one attack error (.200 attack percentage) while chipping in 12 digs and a service ace.
Something about SIUE
The Govs .099 attack percentage was its worst since a .087 attack percentage outing at SIUE earlier this season. Austin Peay has found the going rough against the Cougars, with only 87 kills (10.88 per set) in the two meetings and a .093 attack percentage.
Third-Place Finish
No matter Saturday's result – at the Dunn Center or elsewhere in the OVC – Austin Peay will finish third alone in the OVC regular-season race. The Govs will have to wait and see who their first round opponent will be between the quartet of Belmont, Eastern Kentucky, Morehead State and Tennessee State who are each playing one another this weekend.
Austin Peay wraps up the regular season with an 1:00pm, Saturday contest against Eastern Illinois at the Dunn Center.
Sections
Sports
Topics
APSU, APSU Athletics, APSU Dunn Center, APSU Sports, APSU Volleyball, APSU Women's Volleyball, Ashley Slay, Austin Peay State University, Belmont, Clarksville TN, Cougars, Eastern Illinois, Eastern Kentucky, Emily Harrison, Lady Govs, Morehead State, Ohio Valley Conference, OVC, Sammie Ebright, SIU Edwardsville, SIUE, Taylor Joens, Tennessee State