#22/16 Tennessee vs. Tennessee State
Wednesday, November 39th, 2016 | 6:00pm CT
Knoxville, TN | Thompson-Boling Arena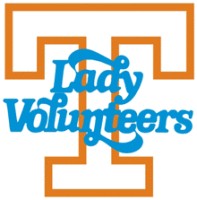 Knoxville, TN – No. 22/16 Tennessee returns to Thompson-Boling Arena on Wednesday night after a three-game road stretch to take on Tennessee State for a 6:00pm CT tip on SECN+ (WatchESPN).
Wednesday's game will not be broadcast on TV, but fans can catch all of the action online through SECN+ on WatchESPN. Visit WatchESPN.com or download the WatchESPN app to view the game on a computer or mobile device. Lyndsay Rowley (play-by-play), Brittany Jackson (analyst) and Maddy Glab (reporter) will call the action.
Fans can also tune into their local Lady Vol Network station to catch Mickey Dearstone describing the action as the Lady Vols take on Tennessee State.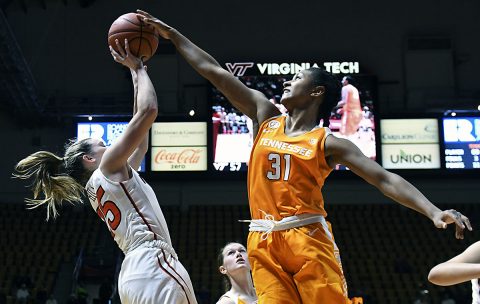 Tennessee vs. Tennessee State
#22/16 Tennessee (3-2) returns to Thompson-Boling Arena on Wednesday to host Tennessee State (1-4) at 6:00pm CT in the Lady Vols' first home game in 17 days.
The Big Orange women enter the match-up with a 236-60-1 record vs. four-year colleges from the Volunteer State, including an 83-58 victory at East Tennessee State on November 15th.
Holly Warlick's squad will play its next two contests, and seven of its next eight games, on Rocky Top.
UT opened with four of its first five games on the road, finishing 2-2 away from Knoxville.
The Lady Vols will try to end a two-game losing skid after dropping consecutive games at Penn State (70-56) and Virginia Tech (67-63) on November 20th and 27th, respectively.
UT will try to avoid losing three games in a row, something it has not done since dropping three consecutive contests from February 5th-10th, 1986.
Broadcast Information
Lyndsay Rowley (PxP), Brittany Jackson (Analyst) and Maddy Glab (Reporter) will describe the action for the Tennessee-Tennessee State game on SECN+.
All of the games included in the SEC Network (SEC Network, SECN+) package and the ESPN package (ESPN, ESPN2, ESPNU) will be available through WatchESPN, accessible online at WatchESPN.com, on smartphones and tablets via the WatchESPN app, and streamed on televisions through Amazon Fire TV, Apple TV, Chromecast, Roku, Xbox 360 or Xbox One to fans who receive their video subscription from an affiliated provider.
Mickey Dearstone will handle the call for the IMG College/Lady Vol Network radio/online broadcast. Airtime is 30 minutes prior to tip-off on network stations.
Promotions For This Game
Wednesday night's game vs. Tennessee State will support the Mission of Hope Toy Drive.
FREE ADMISSION with donation of one new toy or sports item. One complimentary ticket per item donated.
Donations benefit Mission of Hope, serving less fortunate children living in Appalachia.
Purchase the NEW Sink-A-3 Deal and receive a 100-Level ticket and a concession meal! The Sink-a-3 Deal is perfect for Lady Vol fans and families looking for a great view in 100-level seating and a great value. For $24.00, you receive a 100-level ticket and $11 concessions voucher. Minimum purchase of 3 REQUIRED.
Additional reserved seats without concession vouchers may be purchased for $20 each. Concession vouchers will be packaged with tickets. Mail and Will Call delivery options only.
Home Sweet Home
This is the 30th season that the Tennessee women's and men's basketball teams have called Thompson-Boling Arena home, and the Lady Vols own an incredible 416-32 mark (.929) in the venue.
The massive facility has an official seating capacity of 21,678.
UT has led the nation in attendance 19 times in the past 25 years, finishing second the past two years after a No. 1 run for 11 seasons.
All-time, the Lady Vols have a 569-56 (.910) home record in games played at Thompson-Boling Arena, Stokely Athletics Center and Alumni Gym.
UT-TSU Series Notes
Tennessee owns a 4-0 record vs. Tennessee State, with all of those contests taking place in Knoxville.
The Lady Tigers are members of the Ohio Valley Conference, and UT has a 53-21 all-time record vs. that league.
These two teams met in Knoxville on November 24th, 2014, with #4/5 Tennessee posting a 97-46 victory in UT's most recent game against an OVC squad.
UT has averaged 102.3 points in the series, while TSU has put up 50.8 ppg.
That's an average victory margin of +51.5 for the Lady Vols.
TSU senior forward Jayda Johnson is a product of Knoxville's Fulton High School.
Lady Vols Alexa Middleton and Meme Jackson, and Lady Tiger Olivia Jones, are all from Murfreesboro, Tennessee, with Middleton and Jones graduating from Riverdale High School.
UT assistant coach Sharrona Reaves is a graduate of Oakland High School in Murfreesboro.
A Glance At The Lady Tigers
Tennessee State enters Wednesday night's game with a 1-4 record, losing its last two at the Lady Rebel Round-Up in Las Vegas over the weekend.
TSU fell to host UNLV, 69-48, on Saturday and to Wisconsin, 80-70, on Sunday.
The Lady Tigers are 0-4 on the road, with their lone win coming at home vs. Arkansas State (76-66) on November 19th.
Jayda Johnson, a 6-0 senior forward from Knoxville's Fulton High School, paces the TSU attack with 16.0 ppg. She was named All-OVC First Team as a junior.
The Lady Tigers are coached by Larry Joe Inman, who is in his fifth season at the school and holds a 56-68 record during that time.
Inman also has college coaching stops at Middle Tennessee State (1978-86) and Eastern Kentucky (1988-2008), possessing a career mark of 536-385 in his 33rd season.
He has taken seven teams to the NCAA Tournament during his career, including TSU to the 2014-15 big dance.
Lady Vol Quick Notes
Preseason All-SEC Second Team pick Mercedes Russell is off to a terrific start, averaging nearly a double-double.
Her numbers after five games include 17.2 ppg. and 9.8 rpg. while hitting 28 of 38 charity tosses.
Russell, a 6-6 redshirt junior center, has notched double-doubles in four of her first five games this season to give her 15 for her career.
In her first two seasons of play, Russell had only four games of 15 or more points. She has 15 or more points in all five games this season (17/18/15/19/17).
Preseason All-SEC First Team selection Diamond DeShields, a do-it-all 6-1 guard, is averaging 15.0 points per game to rank second on the team. She paces the Lady Vols in assists (4.6) and blocks (1.4), is second in steals (1.2) and fourth in rebounding (6.6). She is shooting 45% from the field, 38% on threes and 75% from the charity stripe.
Junior forward Jaime Nared already has two of the top scoring efforts of her career in her first five games this season with 19 vs. James Madison and 18 vs. Penn State.
Nared had double-doubles in her past two games, tallying 18 points and 11 rebounds vs. Penn State and charting 11 points and 10 boards vs. Virginia Tech. It marked the first time since the 2015-16 season she has strung together consecutive games scoring in double figures since doing so vs. Stetson (12), Missouri (13) and Florida (10).
UT last stood 3-2 during a season in 2011-12 after defeating Middle Tennessee, 82-43, to improve upon a .500 mark after four games.
Prior to their two-game skid, the Lady Vols tipped off the season with three games in a five-day span, capturing an 81-69 road victory at perennial NCAA Tournament team James Madison, beating Navy at home, 85-55, and taking down in-state foe East Tennessee State, 83-58, at Johnson City in front of a Bucs-record crowd of 6,072 in the ETSU/MHSA Athletic Center.
Tennessee is facing Power Five schools Penn State, Virginia Tech, #5/6 Baylor, #14/14 Texas and #11/11 Stanford in five of its next seven games.
Sophomore guard/forward Meme Jackson is earning 23.4 minutes per game of playing time, ranking her sixth on the team.
In five games this season, Jackson has scored 28 points and already has scored more than she did as a freshman participating in 21 games a year ago.
What's Next
After taking on TSU, the Lady Vols face the No. 4 team in the country on Sunday, as Baylor (7-1) comes to town for a 2:00pm tip on ESPN2.
UT then travels to No. 14 Texas on December 11th before returning to Knoxville to host five consecutive contests.
After matching up with the Lady Vols, Tennessee State plays cross-town rival Lipscomb at 2:00pm on December 11th.