APSU Sports Information

Clarksville, TN – Austin Peay State University sophomore guard Zach Glotta is one of a record 278 nominees for the 2017 Allstate National Association of Basketball Coaches (NABC) and Women's Basketball Coaches Association (WBCA) Good Works Teams®, sponsored by Allstate Insurance Company.

The Allstate NABC and WBCA Good Works Teams® recognizes players at all levels of college basketball whose charitable involvement and altruistic acts stand out amongst all other student-athletes participating in the sport.

From leading an initiative to help end the water crisis in Flint, MI, to co-founding a non-profit with the mission to improve literacy rates across the country, the players nominated embody the true spirit of teamwork and giving back.

A sophomore, Glotta carries a 3.21 grade-point average as a health and human performance major.

In addition to being an integral part of the Austin Peay offense, Glotta has been involved in every possible community service initiative the Governors have participated in: packaging meals at Manna Café, weekly reading at Liberty Elementary School, mentoring at the APSU Child Learning Center, APSU's Feed the Hungry event at the Foy Center and more.

He's also served as a Student-Athlete Advisory Committee representative and on the Fellowship of Christian Athletes Leadership team at Austin Peay.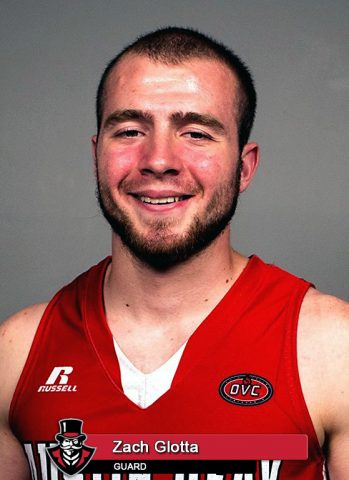 His work in FCA continued into last summer, when Glotta was huddle leader at state FCA camp held at Lee University. He spent a week working with middle schoolers, coaching and instructing on the court and leading chapel and bible study off of it.

"The positive impact that student-athletes are making on college campuses and communities around the world can sometimes go unnoticed," said Thomas Clarkson, president of the west territory for Allstate Insurance Company and a member of the 2017 NABC and WBCA Good Works Teams® selection panels. "Allstate is a proud supporter of NCAA® college basketball and takes immense pride in working with the NABC and WBCA to recognize players who continue to make giving back a priority and inspire future generations of athletes."

Athletic departments and sports information directors across the country nominated the 181 NABC and the 97 WBCA student-athletes for the prestigious honor. Two special voting panels, headlined by former Duke University basketball athlete, two-time NCAA® champion and seven-time NBA All-Star Grant Hill, and former Notre Dame basketball star, two-time Nancy Lieberman Award winner and current WNBA player Skylar Diggins, will select 10-member teams from both the NABC and WBCA, comprised of five student-athletes from the NCAA Division I level and five student-athletes from Divisions II, III and the NAIA. The final roster of 20 award recipients will be unveiled in February.

"It is a joy each year to partner with Allstate in recognizing the many college women's and men's basketball players who are performing good works in their respective communities," said WBCA Executive Director Danielle M. Donehew. "This year's WBCA group of 97 nominees is no exception. They are truly the heroes of our sport and deserve our gratitude. Congratulations to them all."

Members of the Allstate NABC Good Works Team® will be invited by Allstate, an official corporate partner of the NCAA, to the 2017 NABC Convention and 2017 NCAA Men's Final Four® in Phoenix, where they will participate in a community service project benefitting the city. Members of the Allstate WBCA Good Works Team® will be recognized during the 2017 WBCA Convention and at the 2017 NCAA Women's Final Four® in Dallas, and will also participate in a volunteer project in the local community. Allstate is an official corporate partner of the NABC, WBCA and NCAA.

"The growth of the Allstate NABC Good Works Team program in five years has been remarkable with a record-setting number again for 2017," said NABC Executive Director Jim Haney. "We are very grateful to Allstate for shining a bright light on these men and women in college basketball whose compassion and commitment continue to help so many."

In addition to Clarkson, Hill and Diggins, the 2017 Allstate NABC and WBCA Good Works Teams® selection panel members include: former college basketball student-athletes Clark Kellogg (Ohio State University / CBS Sports), Len Elmore (University of Maryland / CBS Sports / ESPN) and Alana Beard (Duke University); media members Seth Davis (Sports Illustrated / CBS), Dana O'Neil (ESPN), LaChina Robinson (ESPN / FOX) and Brenda VanLengen (ESPN / FOX Sports); former head coaches Bobby Cremins (Georgia Tech / College of Charleston), Seth Greenberg (Virginia Tech University), Marsha Sharp (Texas Tech University) and Nell Fortner (Auburn University); and current coach Coquese Washington (Penn State University).

Since 2008, Allstate has partnered with the American Football Coaches Association (AFCA) as a sponsor of the Allstate AFCA Good Works Team®, which recognizes the off-the-field impact college football student-athletes have on their communities.

More information about the Allstate NABC Good Works Team® and the Allstate WBCA Good Works Team® is available at www.nabc.org and www.wbca.org



Sections
Sports
Topics
Allstate Insurnace, Allstate National Association of Basketball Coaches Association, APSU, APSU Athletics, APSU Basketball, APSU Child Learning Center, APSU Foy Fitness and Recreation Center, APSU Men's Basketball, APSU Sports, Austin Peay State University, Clarksville TN, Flint MI, Governors, Govs, Liberty Elementary School, Manna Café Ministries, Ohio Valley Conference, OVC, Zach Glotta