Nashville, TN – The National Weather Service in Nashville Tennessee reports the first Snowfall of the Season is possible Thursday
afternoon through Friday night.
As cold temperatures settle into the region late this week, Clarksville-Montgomery County will have its first opportunity for accumulating snowfall.
Starting Thursday afternoon and ending Friday night, the Cumberland Plateau is likely to see the majority of any snowfall we experience.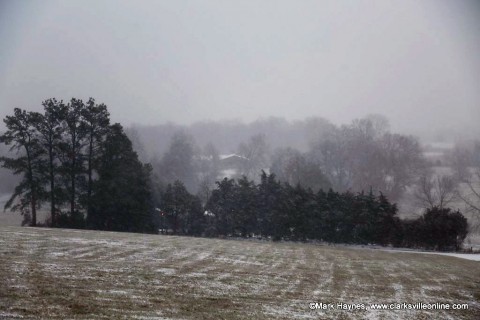 Snowfall totals of an inch or slightly more are possible through this time frame.
Everyone else across Middle Tennessee is more likely to see a dusting to one inch of snow.
There is a 30 percent chance of snow Thursday afternoon for Clarksville-Montgomery County. The high will be around 32. Snow accumulation of less than a half inch is possible. The low Thursday night will be near 19.
For Friday, there is a 20 percent chance of snow until noon. It will be partly sunny with a high near 25. The low will be around 15.
While snowfall totals are not expected to be excessive by any stretch, any amount of snow will cause at least minor travel impacts across the mid-state.
However, with higher totals on the Cumberland Plateau, moderate travel impacts could be experienced both Friday and Saturday mornings.
Counties Affected
Stewart County, Montgomery County, Robertson County, Sumner County, Macon County, Clay County, Pickett County, Houston County, Humphreys County, Dickson County, Cheatham County, Davidson County, Wilson County, Trousdale County, Smith County, Jackson County, Putnam County, Overton County, Fentress County, Perry County, Hickman County, Lewis County, Williamson County, Maury County, Marshall County, Rutherford County, Cannon County, De Kalb County, White County, Cumberland County, Bedford County, Coffee County, Warren County, Grundy County, Van Buren County, Wayne County, Lawrence County, and Giles County.