Clarksville, TN – Dozens of friends and family gathered at the Clarksville Police Department headquarters building last Friday morning, January 20th, 2017, to celebrate the twenty-nine year career and retirement of Sergeant Marty Watson.
Watson was hired on January 10th, 1988, and promoted to detective on August 8th, 1991.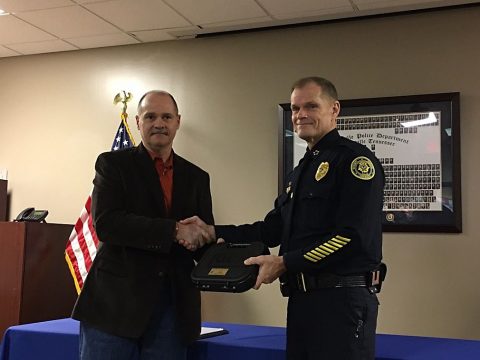 Watson transferred to the Special Operations Unit after three and a half years, and remained there until his promotion to Sergeant on November 1st, 1998, after a six-month stint as a K-9 officer.
Chief Al Ansley presented Watson with a retirement plaque and his service weapon. "Marty also served the Department for seven years in the Honor Guard, as well as seven years as a Big Brother in the Clarksville Big Brothers/Big Sisters program," stated Clarksville Police Chief Al Ansley.
Several current and former police officers took the opportunity to comment about what Watson's service and friendship meant to them over the years.