Clarksville, TN – Clarksville Mayor Kim McMillan and City Department Directors on Wednesday lavished praise and a tasty morning meal on the workers who so ably deliver municipal services to the residents of the City of Clarksville.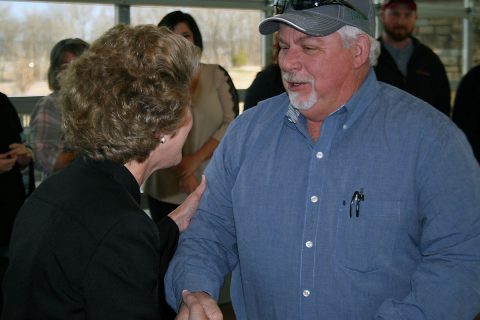 The occasion was the annual Employee Service Awards Breakfast that honors City workers who have reached 5-year employment milestones.
Wednesday morning's gathering recognized 215 staff members from among City's 1,451 full-time positions.
"I appreciate all of you for what you do every day to serve the wonderful residents of this great City," Mayor Kim McMillan told the crowd gathered at the Wilma Rudolph Events Center in Liberty Park.
"From police officers, to firefighters, to the crews that fix our streets, you all do such great work. It's important that we take this time every year to simply say 'Thank You' on behalf of our citizens," said Mayor McMillan.
The longest-serving honorees this year were Russell Harris, project engineering specialist, and Larry Waynick, contract supervisor, who both have logged 45 years at CDE Lightband, the City's electric power and broadband provider.
Jeannie Hillier, administrative support technician in the Information Technology Department, was honored for 40 years with the City.