Clarksville, TN – Clarksville Police Officer Natalie Hall was promoted to the rank of Sergeant in a Friday morning ceremony at the police headquarters building. Clarksville Mayor Kim McMillan congratulated Hall before CPD Chief Al Ansley presented the officer with a promotion certificate and a gold badge.
Hall's parents, Jack and Millie Hall, drove from Shawneetown, Illinois to attend the ceremony. Millie Hall pinned the new Sergeant badge on her daughter.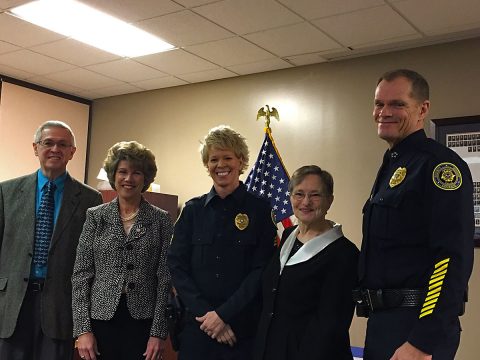 "I'm blessed and honored to serve in such an amazing agency, both sworn and unsworn," stated Hall. Numerous friends and coworkers expressed their congratulations to the new Sergeant.
Hall was hired on December 16th, 2008 and served as the public information officer from September 1st, 2013 until her recent promotion. Jack Hall explained to attendees that his daughter has always been an overachiever.
Chief Ansley praised Hall for passing the physical fitness assessment in the ninetieth percentile for eight years in a row.