APSU Sports Information
Clarksville, TN – Austin Peay's baseball team will open Ohio Valley Conference play when it hosts preseason favorite Jacksonville State in a three-game series, Friday-Sunday at Raymond C. Hand Park.
Due to inclement weather forecast for the Clarksville area this weekend, the Governors and Gamecocks now will play a noon, Friday doubleheader (both nine inning contests) to open the series. A date and time for Game 3 of the series will be determined as weather permits.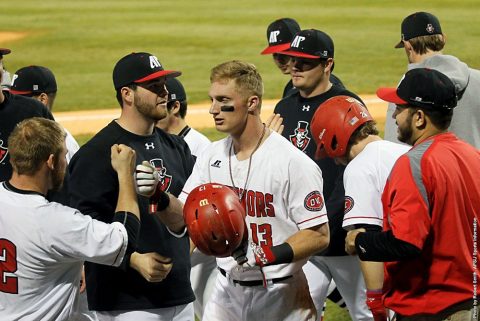 Series Analysis
13th OVC Series
This weekend's contests will be the 13th weekend series between the Govs and Gamecocks. JSU has won 10 of the 13 series (26-13 record), including the last three (7-2 record). APSU's last series victory was 2013 in Clarksville.
Entering this season's series, the Govs and Gamecocks have played 50 games, JSU owning a 29-21 advantage in the series. Jacksonville State has won the five games in the series, Austin Peay's last win coming March 15, 2015 at The Hand.
First Hacks
Home Run Hearsay
After opening the season with 22 home runs in their first eight games, the Govs have returned to terra firma in their past four games with four home runs in that span. Still the Govs enter the season's fourth week leading Division I in home runs per game (2.17).
The Govs also were ranked among the nation's Top 25 offenses in total home runs (2nd, 26) and slugging percentage (3rd, .568). Eleven different Govs have hit a home run already this season. The APSU record is 12 different individuals with a home run in a season, last notched in 2015.
Individually
Senior first baseman Dre Gleason picked up his second adidas OVC Player of the Week honor, Monday, after batting .533 with two doubles, two home runs and nine RBI last week. Gleason also is the only Govs batter to reach base in all 12 games this season after right fielder Chase Hamilton was held off the base paths at Evansville, Wednesday, ending his streak at 11 games.
Senior utility man Alex Robles hit his third home run of 2017, Wednesday, at Evansville and is one shy of tying his career single season high set last season in 53 games. Senior right fielder Chase Hamilton leads the Govs with 10 walks this season, ranking third in the OVC and among the Top 100 in Division I, he had just 22 walks last season.
Redshirt freshman Parker Phillips saw a four-game hit streak stopped at Evansville, Wednesday, he batted 9-for-16 (.563) with four doubles and four RBI during the streak. Junior shortstop Kyle Wilson is battling through an early slump that has seem him limited to 6-for-40 (.150) batting in the last 10 game, though he broke a four-game hitless streak with a 3-for-5 outing against Mercer, Saturday.
Junior second baseman Garrett Giovannelli enjoyed a four-game stretch (February 28th-March 5th) that saw him go 6-for-20 (.300) with three doubles. Junior center fielder Imani Willis had just two hits in Week 3 action but has had a sacrifice bunt in three consecutive games entering Week 4. Sophomore catcher Alex Sala was one of three Govs starting catchers during the Mercer series, but went 2-for-4 at the plate in his start, March 5th. Junior left fielder Cayce Bredlau suffered a lower-body injury in the North Carolina State series opener, February 24th, and is day-to-day entering this weekend.
Toeing the Rubber
Staff Notes
APSU pitchers continue to record strikeouts, with 23 Ks in those same 17 innings while racking up 111 Ks through 105 innings this season. Their 9.51 strikeouts per nine innings would smash the record set in 1967 and ranks 43rd nationally.
However, the Govs pitching staff enters the weekend battling a rash of walks in the last two outings (19 in last 17 innings). The Govs used the Robles-Costanzo-Powell trio to headline a weekend series for a 13th consecutive week against Mercer. Austin Peay has a 22-14 record on weekends with that trio.
Starters
The Govs will turn to right-hander Caleb Powell to start the weekend after he picked up his season's first victory against Mercer, last Saturday. He has supplied five innings in each of his last two starts, posting a 4.50 ERA.
Right-hander Alex Robles will step into the No. 2 role for this weekend's set, looking to regain his form after surrendering a 10.00 ERA and 14 hits in his last two starts. He enters the week ranked eighth among OVC pitchers with 10.93 strikeouts per nine innings (17 Ks in 14 IP). The Govs Game 3 starter will be determined as the series progresses.
Up Next for APSU Baseball
Following this weekend's series, Austin Peay will begin a four-game road trip with a Wednesday contest at Tennessee. It will be the 24th meeting all-time between the two programs. It also is the first of two scheduled APSU contests against Southeastern Conference opponents.
The road trip continues next weekend with an OVC series at Murray State and the renewal of this season's Heritage Bank Battle of the Border series.