Clarksville, TN – The Clarksville Area Chamber of Commerce is pleased to present a range of opportunities in April for networking, recognition, and community service.
On Wednesday, April 5th, Clarksville Young Professionals are invited to hear Garrett Dickerson with Thrivent Financial speak about a community service project benefiting the local F.U.E.L. program.
Lunch will be served at noon at the Chamber, 25 Jefferson Street. CYP annual dues are $50.00.
To learn more about monthly events or the benefits of membership, visit www.clarksvillechamber.com/chamber/clarksville-young-professionals
The Chamber of Commerce is accepting nominations for three annual awards: The Ted A. Crozier Sr. Community Commitment Award, Boots to Suits: Veteran of the Year and Young Professional of the Year. Nominations must be received at the Chamber by Friday, April 7th and winners will be announced at the Chamber's Annual Gala on Tuesday, May 9th.
Nomination forms are available online the Chamber's website at www.clarksvillechamber.com/chamberawards and at www.clarksvillenow.com
Forms may also be requested at the Chamber at 25 Jefferson Street, Suite 300, or by phone at 931.647.2331.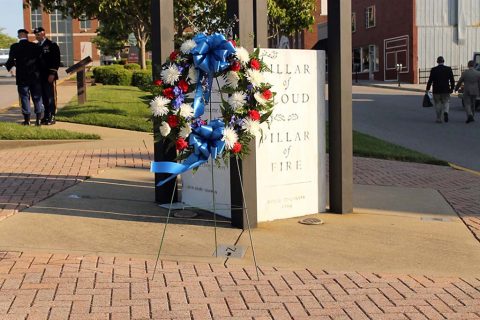 The Chamber will host events during Warrior Week, April 17th-21st, to show our appreciation for military service members. The 24th Annual Godfather Golf Tournament will take place on Wednesday, April 19th at Swan Lake Golf Course. On Friday, April 21st at 5:30pm, the Eternal Flame Ceremony at One Public Square will honor those who lost their lives defending our nation.
For more information about Warrior Week events, please contact Yvonne Pickering at 931.245.4340 or by email and
Business After Hours is Thursday, April 20th at Hilton Garden Inn, 290 Alfred Thun Road from 5:00pm-7:00pm. This event is free for Chamber members and provides a great opportunity for networking, business development and fun.
Great American Clean-Up Day, part of Keep Tennessee Beautiful, is Saturday, April 29th. Individuals or groups of any size may volunteer for picking up trash, planting flowers or general upkeep throughout Montgomery County. Gloves, vests and trash bags will be provided and distributed on April 29th at 8:00am at the Montgomery County Courthouse.
Please register with Mary Anderson at , 931.648.5751, ext. 110 or Melinda Shepard at , 931.647.2331.
About the Clarksville Chamber of Commerce
The Clarksville Area Chamber of Commerce was established in 1905 to represent the interests of the business community and its membership by advancing community development, promoting the business and economic environment, and improving the welfare of the community by enhancing the quality of life in the region. Today, Chamber membership is composed of 1,625 individuals from 896 businesses and is located at 25 Jefferson Street, Suite 300.
Learn more at www.clarksvillechamber.com