APSU Sports Information
Clarksville, TN – Designated hitter Parker Phillips had two home runs but Austin Peay State University's baseball team saw a late rally fall a run short in a 14-13 Ohio Valley Conference loss to Tennessee Tech, Saturday afternoon.
Phillips' two home runs highlighted an impressive six home run outing by the Austin Peay (11-12, 4-5 OVC) offense.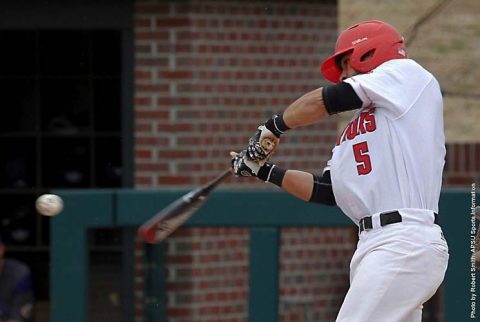 In fact, the Governors had 11 extra-base hits in their 19-hit outburst, tacking on five doubles to the half-dozen homers.
However, the Govs offense nearly relied entirely on the home run tally as they scored 11 of their 13 runs via a home run. Furthermore, Austin Peay only followed a home run with additional scoring once and that was on the back-to-back home runs from centerfielder Alex Robles and Phillips in the first inning.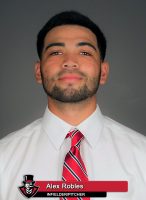 Tennessee Tech (20-6, 9-0 OVC) eschewed their long-ball hitting ways and instead strung together hits a key moments in the game. Trailing 4-3 going into the fifth inning, the Golden Eagles opened with three straight hits, including a game-tying double by right fielder Kevin Strohschein.
After a groundout, TTU saw the next five batters reach base safely to take the lead. Catcher Chris Brown hit a go-ahead two-run single and second baseman Matt Jones added a two-run double.
Shortstop David Garza's RBI single capped the inning and gave TTU a 9-4 lead.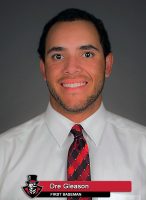 Austin Peay would get two runs back on first baseman Dre Gleason's two-run home run in the fifth. They narrowed the deficit further with one of their two runs scored outside of the home runs when Robles hit a RBI double in the sixth, getting APSU within two runs, 9-7.
But Tennessee Tech scored the next five runs, including three runs in a pivotal eighth inning. The Golden Eagles had just one hit in that eighth inning, center fielder Alex Junior's two-run single helping them take advantage of four walks in the inning and build a 14-7 lead.
The Govs offense wasn't finished and put on a flurry of scoring in its final two innings. Third baseman Landon Kelly's three-run home run was part of a four-run eighth inning that closed the game to 14-11. In the ninth, pinch hitter Bret Newberg hit a leadoff double and left fielder Cayce Bredlau followed with a two-run home run to get APSU within a run, 14-13.
Austin Peay then saw the tying run reach base when Robles followed Bredlau's blast with a single. Designated hitter Parker Phillips walked, putting the potential game-winning run on base. However, the Govs 4-5-6 hitters could not move the runners, ending the game with a fly out, infield fly and a ground out.
Govs starter Caleb Powell (2-2) got off to a good start, holding Tennessee Tech to three runs over the first four innings. However, he could not get out of a rough fifth inning and was tagged for the loss after allowing ine runs on 11 hits in 4.2 innings.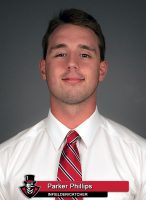 Bredlau, Robles and Phillips – the Govs 1-2-3 hitters – combined to go 9-for-14 at the plate with four home runs, three doubles, four walks and seven RBI between them. Robles had his second career four-hit outing (4-for-6) while Phillips had three hits including his two home runs. Robles and Kelly also had three RBI each.
Tennessee Tech starter Chase Burkett (4-1) picked up the win after allowing seven runs on 11 hits in his 5.1 innings of work. Reliever Devin Lancaster picked up his first save after retired three of the four batters he faced.
Third baseman Trevor Putzig went 4-for-6 with two doubles and two RBI to pace the Golden Eagle's offense. Eight different Tennessee Tech hitters ended the game with RBI.
Who Governed
Playing center field for the second time this week, senior Alex Robles came up with a 4-for-6, three RBI performance at the plate. The four hits tied his career high and included a two-run home run in the first inning and a RBI single in the sixth. Robles singled and scored in the Govs eighth-inning rally and singled in the ninth inning but was left stranded in scoring position.
Notably
Home Runs by the Bulk
Austin Peay post a season-high six home runs in Saturday's series finale, its most in a home game since electronic record keeping began in 1996. It was their most in any game since the 2011 season when it hit six home runs at Morehead State.
Phillips' Big Series
Phillips' two solo home runs wrapped up an impressive series for the freshman. He went 7-for-10 with a double, four home runs, six RBI and six runs scored in the three games. Phillips tacked on a pair of walks and was hit by a pitch twice to finish with a .786 on-base percentage.
More Doubles Please
In addition to its six home runs, the Govs hit five doubles in the contest. Four players, including Phillips, ended the day with a double and a home run: left fielder Cayce Bredlau, center fielder Alex Robles and third baseman Landon Kelly. The Govs posted 10 doubles in the series' final two games.
Below .500: The Overall Version
Austin Peay fell below .500 for the first time in 2017 and for the first time since March 6th, 2016 when they fell to 5-6 overall after a loss to Mercer. The Govs moved back to .500 the next game and did not fall below .500 the rest of the season.
Below .500: The OVC Edition
The Governors also moved below .500 in OVC play for the first time this season. It is the first time since the end of the 2014 season APSU has fallen below .500 in league play.
Next Up for APSU Baseball
Austin Peay begins a five-game road trip with a 6:00pm, Wednesday contest at Middle Tennessee.