Clarksville, TN – On Thursday, June 8th, 2017, around 2:30pm, Tyler Pettie, 25, of Clarksville was taken into custody by Clarksville Police and booked into the Montgomery County Jail after being indicted by the Montgomery County Grand Jury for Vehicular Homicide, Driving Under the Influence, and Speeding.
The charges stemmed from a crash which occurred on March 17th, 2017 around 5:16pm.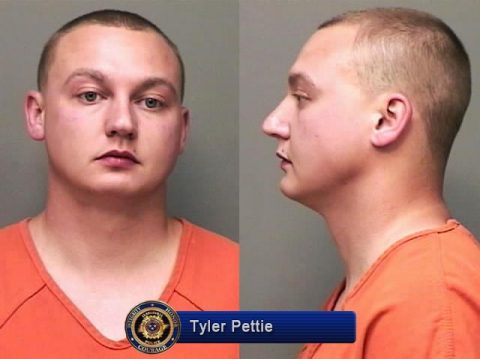 A 2005 Suzuki Firenza driven by Austin McElwrath, 21 was stopped for a red light at the intersection of Fort Campbell Boulevard and Tiny Town Road. A 2016 Dodge Challenger driven by Tyler Pettie stuck the Suzuki from behind.
Austin McElwrath was taken by Lifeflight to Vanderbilt Hospital and died from his injuries. The investigation revealed Tyler Pettie was traveling 65 mph in a 45 zone when the crash occurred.
Additionally, it was determined there were prescription medications present in Pettie's blood at the time of the crash.
Tyler Pettie
Name: Tyler Pettie
Gender: M
Race: W
Address: Stateline Road, Clarksville, TN
Arresting Officer: Harris
Charged With: Vehicular Homicide (DUI), Driving Under the Influence (DUI), Speeding
Booked Into: Montgomery County Jail
Bond: $75,000.00