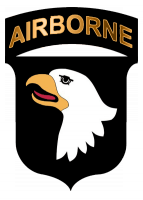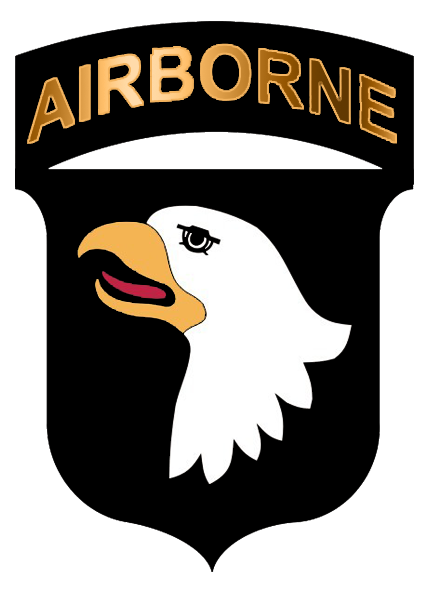 Fort Campbell, KY – 101st Airborne Division (Air Assault) and Fort Campbell will hold the 75th Anniversary Poster Competition from now until July 25th, 2017.
The 2017 Commander's Inaugural Visual Graphic Arts Anniversary poster competition recognizes excellence in the creative skills of 101st Division Soldiers, Family Members, the Fort Campbell DoD civilians and the Fort Campbell communities.
The theme this year is "Legacy of Heroism" and mission "I am A Screaming Eagle." The poster competition is sponsored by the 101st Airborne Division with the intent to inspire esprit de corps, pride, and patriotism, and enhance the prestige of the 101st history.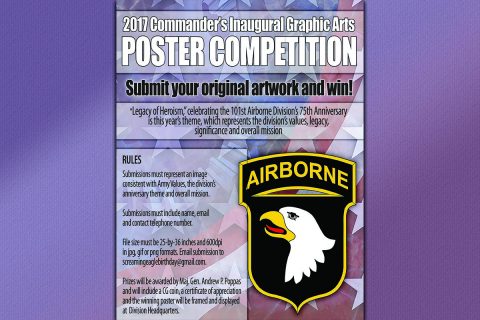 The 101st Airborne Division (AASLT) birthday is August 16th, 2017, a day we celebrate the extraordinary Soldiers who have led the way for 75 years and will continue to lead in protecting the nation.
#LegacyofHeroism theme promotes the historical significance, understanding, pride, esprit de corps among Soldiers, their Families, the Civilian work force, and Retirees; to recognize their achievements of past and present and honor their sacrifices in serving our Nation while wearing the distinguished Eagle "Old Abe" patch.
The competition is open to the public from now until July 25th, 2017.
Participants will submit original art designs to the Division Public Affairs designated email address: . The competition will take place May 30th until July 25th, 2017. Division Public Affairs will identify a panel to judge the submissions.
(1) Judging Criteria:
Does the submitted artwork fit the theme of the competition?
Is there a creative interpretation of the subject/ theme?
Is the originality of the work interesting?
(2) Images submitted to compete must be in 600 dpi; 24×36; JPEG, GIF, and PNG format and be submitted to the following email:
All 101st Airborne Division service members, Family Members, Fort Campbell communities and DOD employees are invited to participate in the competition.
Participants must include their contact information with submission: email, unit, name, rank and contact number.
All submissions will be reviewed to ensure compliance with security classifications and restrictions.
Participants must represent an image consistent with Army values and the Division's theme and mission.
Images submitted will be judged on the quality, creativity and substantive merits of design and must complement, support and reinforce the 75th Anniversary theme "Legacy of Heroism" and represent the honor of "I am A Screaming Eagle."
Images submitted will not weaken or cast doubt on the credibility of the Division, the Army or DOD.
Images must be aesthetically pleasing and adhere to fundamental principles of design, including proportionality, consistency and unity.
Images submitted will not portray military or civilian DOD personnel in an unfavorable or undignified manner, violate command policies, and display inappropriate or unacceptable artwork. By entering this competition, you are granting the 101st Airborne Division (Air Assault) a non-exclusive perpetual license to reproduce images of your artwork on our websites and for items associate with the unit's 75th Anniversary Campaign. Artworks will not be used for any other purpose than that which is stated here. Winning entries will be displayed on the Division's website and in the Divisions headquarters. Each entry becomes part of the historical/archival online contest catalog. It can be removed at a later date upon request.
There are no restrictions to the number of submissions a participant can submit for judging.
Prizes will be presented by the Commanding General (CG) and consist of a CG Coin, Certificate of Appreciation, winning poster matted and framed to be displayed in Division HQs