Clarksville, TN – On July 11th, 2017 around 4:00am, Clarksville Police Officers responded to a 911 call for a welfare check about a woman driving a Walmart battery powered cart in the center of the road on the 101st Airborne Division Parkway.
When Officer Brittany Hubbard located the woman, she was driving the cart on the shoulder of the road in the area of Victory Road about 1.5 miles from Walmart located at 1680 Fort Campbell Boulevard.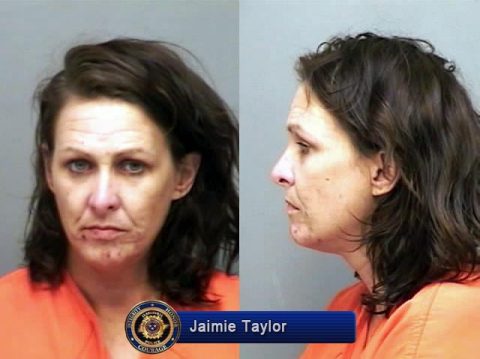 Officer Hubbard pulled the patrol car behind the woman on the cart and, since it was dark and for safety purposes, activated her emergency lights. The woman continued onward, seemingly oblivious to the officer's presence.
Officer Hubbard chased the cart on foot and was finally able to get the woman to stop. According to the information provided to the officer, the woman went to the store to pick up some snacks and when she came out, the car wouldn't start. So, she took the battery powered cart so she could go to her house and get some help to get the car started.
During the course of the investigation, it was determined the woman, Jaimie Taylor, 41, had active warrants on file for: Two Counts of Driving on Suspended/Revoked License, Two Counts of Simple Possession, No Insurance, and Child Restraint.
A pickup truck was used to return the cart to the store.
Jaimie Taylor
Name: Jaimie Taylor
Gender: F
Race: W
Address: Ringgold Road, Clarksville, TN
Arresting Officer: Hubbard
Charged With: Two Counts of Driving on Suspended/Revoked License, Two Counts of Simple Possession, No Insurance, and Child Restraint.
Booked Into: Montgomery County Jail
Bond: $15,500.00