Clarksville, TN – Austin Peay State University (APSU), one of the state's leading providers of higher education to military-connected students and their families, has a long history of supporting veterans on campus and within the community.
This month, in recognition of Veterans Day, the University is hosting several events in honor of the men and women who have served this country.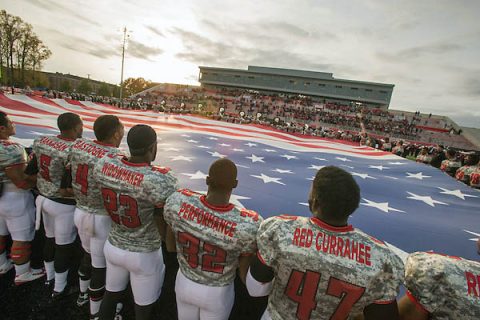 These events include:
November 9th, 9:00am to 4:00pm: Showcasing our Veterans: Art Exhibition & Information Fair, in the APSU Morgan University Center lobby. Sponsored by VetSuccess on Campus, the exhibit will feature the creative works of veterans, soldiers and military family members. Visitors will also learn more about APSU and the University's military resources.
November 10th: Veterans Day observed, no classes
November 18th, 4:00pm: Military Appreciation Day at APSU football. Free admission to the APSU/Eastern Illinois football game has been made available for all current and former military with an ID, courtesy of CW4 (Ret.) Joe and Andrea Maynard. The complimentary admission offer is available the day of the game. Tickets for the general public are available to purchase, starting at $10.00 each. Contact the ticket office at 931.221.PEAY (7329) for more information.
November 22nd, 3:00pm: APSU Men's Basketball game at the Shaw Fitness Center on the Fort Campbell military installation. This game against Bethel University will be the first-ever contest involving collegiate basketball programs at Fort Campbell, and it will mark the first APSU home game away from the Dunn Center since that facility opened in 1975.
More than 2,100 veterans are enrolled at Austin Peay, and the University recently received a $1.3 million federal grant to open a Veterans Upward Bound Office on campus. The Tennessee Higher Education Commission (THEC) announced in July that Austin Peay will receive $79,954 in additional funding and program support to serve veterans and service members and help them earn postsecondary degrees as a part of Governor Bill Haslam's Drive to 55.
In 2015, THEC honored the University's longstanding support of this population by naming APSU a Veterans Education Transition Support (VETS) Campus. According to THEC, VETS Campus certification is awarded to higher education institutions that "not only prioritize outreach to veterans, but successfully deliver the services necessary to create a supportive environment where student veterans can prosper while pursuing their education."
In August 2014, the federal government applauded Austin Peay for being the only school in Tennessee to implement the U.S. Department of Education and the U.S. Department of Veterans Affairs' "8 Keys to Success." That initiative sought to help veterans succeed in their college careers.
In 2013, Austin Peay partnered with the Department of Veterans Affairs to create the VetSuccess on Campus program. That program put a full-time VA vocational counselor on campus to help veterans transition into student life and assist them in achieving their educational goals.
In 2009, the University opened the Austin Peay Center at Fort Campbell, marking one of the first times a state university was permitted to build an educational facility on federal property. Austin Peay also assists these students through the University's Military Educational Task Force, the Student Veteran Organization and the APSU Military Student Center.