#12/13 Tennessee (7-0) vs. Alabama State (1-6)
Sunday, December 3rd, 2017 | 1:00pm CT
Knoxville, TN | Thompson-Boling Arena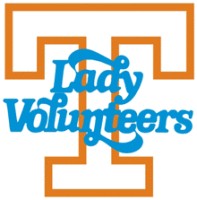 Knoxville, TN – No. 12/13 Tennessee (7-0) meets Alabama State (1-6) at 1:00pm CT on Sunday at Thompson-Boling Arena.
The UT-ASU game is the fifth of seven home tilts in UT's first 10 scheduled contests. It also is the second of a four-game home stand.
The Lady Vols remain undefeated after shutting down Central Arkansas, 77-34, on Thursday night in Knoxville.
The triumph was Tennessee's fourth at home this season and came on the heels of a three-game sweep in the Cancun Challenge Riviera Tournament, November 23rd-25th. Alabama State, meanwhile, brings a five-game losing streak into Sunday's contest.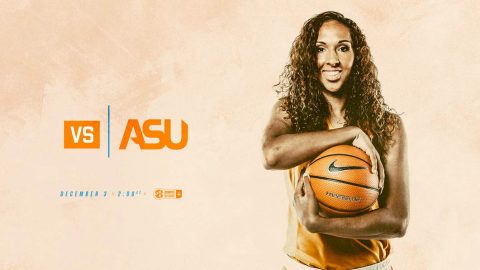 The Lady Hornets fell at home, 59-47, to South Alabama on Tuesday evening.
Sunday is Knox County Schools Day. Donate two school supply items and receive one complimentary ticket. Donations benefit the Knox County School Supply Depot.
It's also Kids' Day! Every Sunday home game is Kids' Day. Check out the fun at the Kids' Corner at Gate F, featuring a caricature artist!
Post-game lay-ups for kids every Sunday home game!
Post-game autographs with Rennia Davis at Section 116 on concourse
High-five tunnel for the first 50 kids every game! Pick up a wristband for the tunnel at Section 113 on the concourse
Halftime performance by Coulter Grove Intermediate School Unicycles.
Broadcast Information
Roger Hoover (PxP), Ashley Smith (Analyst) and Maddy Glab (Reporter) will describe the action for the Tennessee-Alabama State online broadcast on SEC Network+ (SECN+) and WatchESPN.
Mickey Dearstone will handle the call for IMG College/Lady Vol Network radio/online broadcasts for the 19th season. A link to the live audio stream can be found on each Hoops Central page or the Lady Vol schedule on UTSports.com.
Air time for games on the Lady Vol Radio Network is generally 30 minutes prior to tip-off.
Coming Up for UT
Next week, the Lady Vols will welcome Troy on Thursday (7:00pm) and No. 2/4 Texas on Sunday (3:00pm) before competing in their first two true road games of the season at Long Beach State on December 17th (4:00pm CT / 2:00pm PT) and at #16/14 Stanford on December 21st (8:00pm CT / 6:00pm PT).
The Troy game will be on SECN+, while the Texas contest will be televised by ESPN2. The game at Long Beach State will be streamed on the school's Beach Vision, while the tilt at Stanford is scheduled for the Pac-12 Networks.
Tennessee Reset
Tennessee is one of only three SEC schools and 20 total teams remaining unbeaten this season as of December 1st. League schools UT, Georgia and Mississippi State stand at 7-0.

The Lady Vols are off to their best start since the 2013-14 squad began the year 10-0 en route to a 29-6 overall record.

Holly Warlick's squad has led at the half of all seven games, including a double-digit margin in five of those.

The squad from Rocky Top has shot a higher percentage than six of seven opponents and stands at 47.6 for the season. That rate ranks Tennessee No. 18 nationally.

The Big Orange women have won the battle of the boards in every game, forging a +10.7 advantage on the glass.

Tennessee leads the SEC and ranks 11th nationally, pulling down 47.3 rebounds per game, with Jaime Nared (9.9), Mercedes Russell (8.9) and Rennia Davis (8.0) leading the way.

The team is fourth nationally in defensive rebounds per game, grabbing 33.

UT has four players averaging double figures in scoring, including seniors Mercedes Russell (17.4) and Jaime Nared (16.0), and freshmen Anastasia Hayes (12.6) and Rennia Davis (12.1).

Mercedes Russell continues to shoot at a high percentage, connecting on 67.9 percent of her shots (53 of 78). She leads the SEC with that accuracy and ranks No. 6 nationally.

Russell picked up the third double-double of the season and 33rd of her career Thursday night, tallying 19 points and 10 rebounds vs. UCA. She, Rennia Davis and Jaime Nared all have three double-doubles this season.

Jaime Nared has scored 21 or more points three times this season, including 25 vs. James Madison, 26 vs. Marquette and 21 vs. Oklahoma State.

Nared became the 45th Lady Vol to eclipse the 1,000-point mark, netting 21 vs. Okie State and moving her total to 1,004 in her 100th career game.

The Lady Vols are eighth in the NCAA in free throws attempted (165) and 11th in free throws made (109).

UT is 14th nationally in three-point field goal percentage defense, allowing opponents to shoot only 22.3 from long range.
Lockdown Defense
Tennessee set a school record for fewest points allowed in a second half, giving up only 10 to Central Arkansas on November 30th.
All 10 of those points came in the third quarter, as the Lady Vols shut out the Sugar Bears in the final stanza, marking the first time UT had "pitched a shutout" in a quarter.
UCA finished with 34 points for the game, marking the 10th-lowest total ever scored by a Tennessee foe.
UT had a season-high 13 steals, forced a season-best 24 turnovers, held UCA to a season-low 23.7 shooting percentage and allowed the Sugar Bears zero points in transition.
On the season, Holly Warlick's squad has held opponents to an average of 59.4 per game, with five of seven foes failing to score more than 60.
Getting Off to a Great Start
Tennessee has made a habit of getting off to great starts lately. A 152-87 first quarter tally over opponents proves it.
The Big Orange posted a 22-8 first quarter vs. Central Arkansas.
UT went up 10-0 to open the Marquette game.
The Lady Vols were up 6-0 on Oklahoma State en route to a 24-10 first quarter lead.
The Big Orange burst out to a 7-0 advantage over South Dakota on the way to a 24-9 first quarter.
Fabulous Freshies
Freshmen Rennia Davis and Evina Westbrook have started every game for Tennessee, and classmate Anastasia Hayes has been the team's first sub of choice.

Hayes and Davis are UT's third and fourth-leading scorers at 12.6 and 12.1 points per game, while Davis is the team's third-leading rebounder.

Hayes has gotten to the free throw line an average of 9.7 times per game, hitting 52 of 68 for 76.5 percent. She ranks third nationally for free throws attempted and made.

Freshman Evina Westbrook has recorded at least six assists in three of seven games and is leading UT with an average of 4.6 dimes per game. while adding 6.6 points and 2.9 rebounds. Hayes is second at 4.1 assists per contest.

The fourth rookie, center Kasiyahna Kushkituah missed the UCA game with a left lower extremity injury, but has played in three games and averages 2.0 points and 3.0 rebounds. She is shooting 50 percent from the floor.
Big Runs by the Lady Vols
Tennessee has put together some impressive scoring runs this season, stringing together 17-straight points spanning the first and second quarters vs. East Tennessee State.
A 17-0 run in the fourth quarter vs. Central Arkansas left the Sugar Bears scoreless in the final period.
A 15-0 run in the first quarter vs. UCA flipped a 6-5 Sugar Bears lead into a 20-6 Lady Vols advantage.
Against Marquette, UT opened the game on a 10-0 spurt and later used a 14-0 blitz to erase a seven-point deficit.
UT also added a 12-0 run vs. Wichita State (1Q-2Q) and had an 11-0 spree (3Q) as well.
Tennessee used an 11-0 run vs. Oklahoma State, bridging the first and second quarters, to extend its lead to 25-10 over the Cowgirls.
The Lady Vols had an 11-0 blitz spanning the second and third quarters vs. South Dakota.
Conversely, the biggest run UT has given up in 2017-18 has been a 12-0 run by Marquette spanning the second and third quarters.
UT Last Time Out (UT 69, USD 49)
No. 12/13 Tennessee made history on defense when it held Central Arkansas scoreless in the fourth quarter and to 10 total second-half points in a 77-34 victory on Thursday night in Thompson-Boling Arena.

The Sugar Bears (3-2) came into the game averaging 78.8 points per game on .504 shooting from the field, but the Lady Vols' best defensive effort since the season-opening ETSU game limited Central Arkansas to only 23.7 percent shooting from the field. The zero points scored by UCA in the final stanza of the game was the first time UT (7-0) has ever held an opponent scoreless in a quarter. The 10 points allowed in the second half also stood as a program best.

The Lady Vols had three players score in the double digits for the game. Coming off being named Sports Madness SEC Player of the Week, Russell collected her 33rd double-double of her career with 19 points and 10 rebounds.

Freshman Anastasia Hayes continued her early season success, filling the stat sheet with 14 points, three rebounds, four steals and four assists. Meme Jackson broke into double-digit scoring for the first time on the season, adding 11 points.

Halfway through the first quarter, Tennessee found itself down one, as Central Arkansas led 6-5. A 15-0 run that lasted until almost the second quarter, however, broke the game open. Upperclassmen Russell and Jackson provided the offensive spark that saw the Lady Vols pull away for a 22-8 first quarter lead and never look back.
Balanced Offense
Tennessee has had at least three players score in double figures in every game this season and has had four or more in double digits on four occasions.
The Series vs. ASU
Tennessee and Alabama State have met one time previously, with a No. 4/4 Lady Vol unit taking care of the Lady Hornets in the NCAA Tournament First Round, 95-43, on March, 22nd, 2003.
Holly Warlick was an assistant coach at UT at the time, while ASU was led by current head coach Freda Freeman-Jackson.
UT is 4-0 all-time vs. schools from the Southwestern Athletic Conference.
The most recent SWAC team to play the Lady Vols was Alcorn State, which Tennessee defeated, 90-37, on November 25th, 2012, in Holly Warlick's first season as head coach.
Last Meeting Between UT & ASU
Shyra Ely led four players in double figures, as the Lady Vols burst out to a 52-28 halftime advantage en route to a 95-43 NCAA Tournament First Round win over Alabama State in Knoxville on March 22, 2003.
Ely finished with 17 points on six-of-11 shooting in 25 minutes of duty. Brittany Jackson added 16 points, followed by Courtney McDaniel with 12 and Gwen Jackson with 11.
Tennessee shot 50.8 percent from the field, including 7-of-16 (43.8) from the three-point arc, and knocked down 26-of-33 from the charity stripe to advance.
ASU struggled to 3-of-21 shooting from three-point land, including 0-for-6 in the second half.
Tennessee would go on to make the Final Four in Atlanta that season, falling in the title game to UConn, 73-68.
Alabama State Reset
Alabama State comes to Knoxville on a five-game skid and stands 1-6 on the year.

The Lady Hornets were 14-16 overall a year ago but finished 12-6 and third in the SWAC.

ASU has 10 newcomers this season, with only two starters and four letterwinners back.

Six of Alabama State's newcomers are transfers.

The squad has struggled offensively, averaging only 49.4 points per game while surrendering 74.1 thus far.

ASU lost to #4/2 South Carolina in the season opener on November 10th, 99-31, and fell to another team on UT's schedule, Troy, by a score of 93-63.

Alabama State is coached by Freda Freeman-Jackson, who is 294-290 in her 20th season.

She guided ASU to SWAC regular season titles in 2003, 2004, 2015 and 2016 as well as tourney crowns in 2003, 2015 and 2016, resulting in automatic NCAA bids.

Freeman-Jackson is married to ASU men's basketball coach Lewis Jackson and is the mother of Bianca Jackson, a highly-touted player who is a freshman at South Carolina and was recruited by many schools, including Tennessee.
ASU Last Time Out (USA 59, ASU 47)
Alabama State fell behind early before battling back in the third quarter, but South Alabama pulled away down the stretch for a 59-47 non-conference victory at the Dunn-Oliver Acadome Tuesday night.
Kenya Pye led Alabama State (1-6) with 11 points off the bench, while hitting on 50 (5-of-10) percent of her shots from the floor. Jordyn Holmes added 10 points and four rebounds, while Shamyiah Smith and Tatyana Calhoun grabbed six rebounds.
Holmes scored the first seven points of the game for the Lady Hornets, before Hamilton Heights Christian Academy (Chattanooga) product Amber Hunt hit a three-pointer in the final minutes of the first quarter to cut the lead to 15-12. However, South Alabama outscored Alabama State 12-4 in the second quarter, to push the halftime lead to 27-16 en route to the win.
Sections
Sports
Topics
Alabama State, Anastasia Hayes, Cancun Challenge, Central Arkansas, ESPN2, Evina Westbrook, Georgia, holly warlick, Jaime Nared, James Madison, Kasiyahna Kushkituah, Knoxville TN, Lady Vol Network, Lady Vols, Long Beach State, Maddy Glab, Marquette, MeMe Jackson, Mercedes Russell, Mickey Dearstone, Mississippi State, NCAA, Oklahoma State, Rennia Davis, Roger Hoover, SEC, South Dakota, Southeastern Conference, Standford, Tennessee, Tennessee Lady Vols, Texas, Thompson-Boling Arena, Troy, UCA, UT, UT Basketball, UT Lady Vols, UT Women's Basketball, Wichita State