Clarksville, TN – Austin Peay State University (APSU) sophomore Elijah-Pharaoh Carter, better known as the "Violin Guy", spends every Friday entertaining students passing through campus by playing his violin, an instrument he has studied most of his life and has performed with on the stage of New York City's famed Carnegie Hall.
But Carter's story is not defined by an instrument — or a funny nickname, for that matter. While music was his first love, the Memphis native came to Austin Peay in pursuit of a different dream — earning a bachelor's degree in computer science.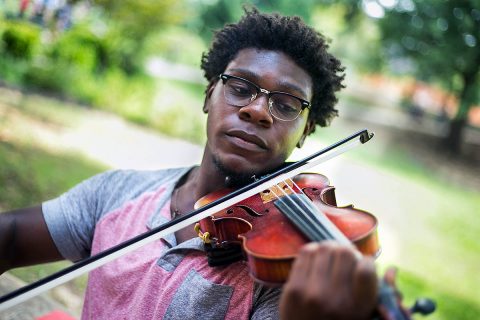 "I've always had a love of computers, and after I began to research the degree offerings at Austin Peay, it just made me sure that this was the place I needed to be," Carter said. "I've always wanted to know how computers work and be one of the guys behind making them work, and the degree I'll receive at Austin Peay will definitely help me in the future."
Every Austin Peay student's story is unique. For some, college was the next step after high school, while others first chose to serve their country or start a family. Some grew up in the shadow of campus, while others saw Austin Peay as an opportunity to redefine themselves away from their home town, state or even country. Many saw one of Austin Peay's nationally recognized programs as the path to their dream career, while others arrived as freshmen still looking to discover their passion.
Regardless of what brought them to Austin Peay, every student's story is one of someone impacted by its mission to find the leader in everyone. And it's with that in mind that the University recently launched Gov Life, an ongoing series of profiles designed to tell the stories of students — and in the coming months, Austin Peay alumni, faculty and staff members ­— who are discovering the path to their future at Austin Peay.
Gov Life is part of the University's Leading Through Excellence Strategic Plan, which calls for sharing the success of Austin Peay and its over 10,000 students both regionally and globally. Austin Peay alumni leave campus to embark on meaningful careers, applying their education in ways that impact the world, and Gov Life serves to preemptively fill in the backstory for those students by explaining, in their own words, how their time at Austin Peay is preparing them to become leaders in their fields.
Updated regularly, Gov Life is a co-production of the #MVPeay social team, Austin Peay's student team of photographers, videographers and social media content creators, and Austin Peay's Office of Public Relations & Marketing, and is available online at www.apsu.edu/govlife
For more information on Gov Life, or how to be profiled in a future update, contact Colin Harris, communication specialist, at 931.221.7868 or