A case of road rage resulted in a vehicle being struck by a 45 caliber handgun round.

Clarksville, TN – On Monday, January 8th, 2018, around 5:30pm, Clarksville Police received a call that a 28 year old man was shot at on Wilma Rudolph Boulevard by someone driving a dark colored Dodge Ram pickup.
After the man was shot at, he called 911, and followed the vehicle until told to discontinue by dispatchers. Officers located a vehicle matching the description provided by the victim and pulled over it over a few minutes later on Kraft Street.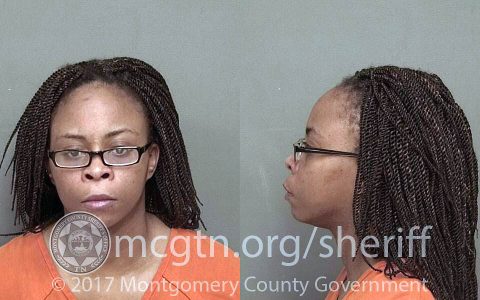 There was a 45 caliber handgun, which had been fired, found on the floorboard inside of the truck.
An inspection of the victim's vehicle revealed a hole in the rear license plate which appeared to be a bullet hole.
When officers looked at the suspect's vehicle they found the hood of the pickup had a bullet hole which was most likely caused during the discharge of the handgun at the victim's vehicle
The reason for road rage was not clearly established, other than the driver being in a rush.
Additionally, there was a baggy with marijuana located inside of the vehicle.
Chantale Coats, 32, was booked into Montgomery County Jail and charged with Aggravated Assault and Simple Possession. Bond was set at $101,000.