Updated: Sunday, 5:40pm
Nashville, TN – The National Weather Service reports snow accumulations are likely once again for Clarksville-Montgomery County and all of Middle Tennessee Monday night, January 15th and Tuesday, January 16th. Snowfall totals are expected to range from one half inch to 2 inches, with the higher totals on the Cumberland Plateau.
While there could be a mix of snow and rain for a couple hours in areas northwest of metro Nashville late Monday afternoon, the changeover to all snow is expected to happen quickly for everyone after sunset Monday.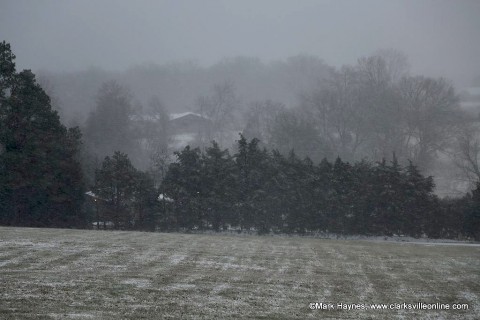 Snows will continue throughout the day Tuesday, so while accumulation are not expected to be more than one and a half inches west of the Cumberland Plateau, both the morning and afternoon commutes could be slick ones.
The chance of snow Monday night is 40% with a low of 10°F.
On Tuesday, the high will be 16°F with a low of 3°F. Snow is likely with a 60% chance of precipitation.
Counties Affected
Stewart County, Montgomery County, Robertson County, Sumner County, Macon County, Clay County, Pickett County, Houston County, Humphreys County, Dickson County, Cheatham County, Davidson County, Wilson County, Trousdale County, Smith County, Jackson County, Putnam County, Overton County, Fentress County, Perry County, Hickman County, Lewis County, Williamson County, Maury County, Marshall County, Rutherford County, Cannon County, De Kalb County, White County, Cumberland County, Bedford County, Coffee County, Warren County, Grundy County, Van Buren County, Wayne County, Lawrence County, and Giles County.