APSU Sports Information

Louisville, KY – Austin Peay State University men's tennis team dropped a tough 7-0 decision against Louisville, Sunday.
The Govs (0-4) knew they had a challenge ahead with Louisville (4-3) boasting a ranked singles player and a ranked doubles pairing.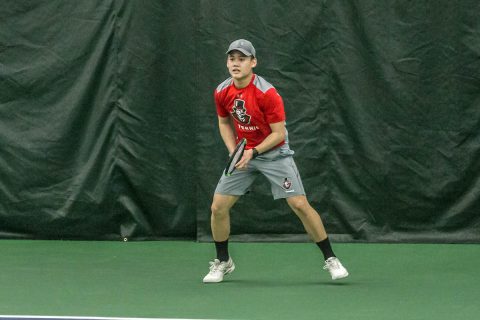 The Cardinal took all three doubles matches, as well as all six singles matches, en route to victory.
Christian Edison won the first set in his match at #2 singles, but ultimately fell in three sets to Nicolas Rouanet.
Box Score
Louisville 7, Austin Peay 0
Doubles
1. #6 C. Morin-Kougoucheff/Parker Wynn (LOU) def. Almantas Ozelis/Aleh Drobysh (APSU) 6-3
2. Federico Gomez/Brandon Lancaster (LOU) def. Timo Kiesslich/Christian Edison (APSU) 6-2
3. George Hedley/Nicolas Rouanet (LOU) def. Chad Woodham/Evan Bottorff (APSU) 6-1
Singles
1. #75 C. Morin-Kougoucheff (LOU) def. Almantas Ozelis (APSU) 5-1, 6-3
2. Nicolas Rouanet (LOU) def. Christian Edison (APSU) 4-6, 6-2, 1-0 (10-8)
3. Federico Gomez (LOU) def. Timo Kiesslich (APSU) 6-0, 6-1
4. Brandon Lancaster (LOU) def. Aleh Drobysh (APSU) 6-1, 6-4
5. George Hedley (LOU) def. Jacob Lorino (APSU) 6-1, 6-0
6. Clement Filho (LOU) def. Chad Woodham (APSU) 6-0, 6-0
Order of finish: Doubles (3, 1, 2); Singles (6, 5, 3, 1, 4, 2)