Written by Maria Yager
Blanchfield Army Community Hospital Public Affairs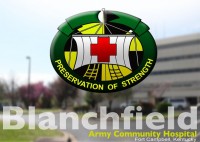 Fort Campbell, KY – Nine Vietnam War veterans from the Fort Campbell community were greeted with a standing ovation during a commemoration ceremony recently to honor them and the service of 9 million Vietnam veterans.

The event was sponsored by Blanchfield Army Community Hospital and Veterans Affairs staff at the Fort Campbell Integrated Disability Evaluation System clinic and scheduled in conjunction with The National Vietnam War Veterans Day, March 29th, which recognizes all the men and women who served on active duty in the U.S. Armed Forces from November 1st, 1955 to May 15th, 1975.

"I really appreciate you standing here as we came in today. It was something that we did not have when we came back from war. We came back from the war with bad attitudes. We had college students standing all around — all of them had white t-shirts and blues jeans on – calling us conformists. They never respected the Vietnam veteran, but I'll tell you, Vietnam veterans are proud Soldiers. They fought hard and they went out and did what their country asked them to do," said Vietnam War veteran and guest speaker Sgt. Maj. Alvin Colvin, who retired from the Army in 1999. Colvin served with a U.S. Army Air Ambulance Company in Vietnam in 1969. "It wasn't an MOS (military occupational specialty). You just got thrown into that position and fortunately I came back alive."

Colvin said he served in Vietnam for a little over nine months and was shot out of the air eight times.

"This one incident I recall, we came in for one urgent patient. I heard a big explosion go off. We lost the whole tail end of the helicopter. The helicopter started to spin and needless to say, we went down. The crew came down with the helicopter. None of them were really injured but we were scared to death."

Fellow Vietnam veteran and guest speaker David Wesner was a 1st lieutenant and served as an advisor with Advisory Team 78. He now serves as a pastor in Clarksville, Tennessee but said he struggled after the war, coping with drugs, alcohol and depression before discovering peace. He now ministers to others including those struggling with addiction and depression to help them find their way back from despair.

"I'm thankful to be back and I just want to thank all these guys and gals who serve. Thank you for honoring us," said Wesner. Wesner was the son of a career Soldier and grew up on Fort Campbell. After graduation from Austin Peay, he chose to join the Army. "I didn't wait to be drafted. I felt it was my duty to join the Army, so I did. I went to basic training, AIT (advanced individual training), Infantry OCS (officer candidate school), had a six-month assignment and then, bam, like clockwork, orders to Vietnam. I thought I was ready."

Wesner served in Vietnam for about a year and left the Army after completing his initial obligation.

"I came back to the world, as we called it. Got my honorable discharge and slipped into my civilian clothes. I thought that chapter was behind me. Time to move on. I didn't mention I was a Vietnam vet to anyone for ten years. That should have been a red flag. But I didn't yet know that my mind no longer worked like it used too. I didn't yet know that everything that was normal, everything that was sane, everything that made sense, was gone. I missed a bunch of other red flags too. I didn't notice the anger. I didn't notice the alienation. I didn't notice the distrust. I didn't notice when I started making really bad decisions that really complicated my life. I just thought the people around me, the ones having trouble understanding me, I felt they were the ones messed up," said Wesner.

His struggles led him from a once normal life to sleeping on a park bench homeless in New York City. He said he felt dead to the world until one day he found God and began to make his way out of his dark place.

"I found myself on the steps of a church. My wife, who found me, picked me up and nurtured me back to health, she led me. Thankfully I went inside. The church had a program for people who had lost their way, for people who wanted to climb out of the deep hole they'd dug themselves. Today, I'm a pastor of a church with a very large military population. And what I learned in Vietnam and the years after made me the guy I am today," said Wesner.

Hospital and VA leaders presented each of the nine Vietnam veterans who attended the ceremony with commemorative pins in honor of their service. Displays set up at the ceremony provided attendees more information about the Vietnam War. Employees at IDES also created a display featuring photos and the names of their family members who served during the 20-year Vietnam era.

"There was a presidential proclamation signed announcing that March 29th would be National Vietnam Veterans Day so we decided to move forward and come together as one to let our Vietnam veterans know they are not forgotten," said Vickie Patton-Currie, a VA representative at the IDES clinic, who coordinated with her BACH counterpart to organize the commemoration.

"It's come a long way since Soldiers left from Vietnam. Back then when Soldiers left from Vietnam, it was sort of a handshake and there you go, but now we're working very hard to make sure that every Soldier who leaves the military has the ability to get everything they deserve to move out into the civilian world with really their best possible benefits as well as the things they need to get the jobs they need to contribute," said event co-coordinator Dr. David Twillie, Chief of Soldier Readiness (IDES) at BACH. "This collaborative process with the VA benefits Soldiers of today. We trust we have learned from the experience of our Vietnam veterans."

IDES is a joint system used by the Department of Defense and the VA to make service member's disability evaluation seamless, simple, fast and fair. IDES is used to determine a service member's fitness for duty and proposed disability rating if the service member is found medically unfit for duty before they leave the service. The proposed rating informs the service member of the approximate amount of compensation and benefits they will receive from the VA.

Twillie and his team guide service members through the entire IDES process to ensure they are aware of their options and the many decisions they and their families need to make. VA Military Service Coordinators like Patton-Currie help service members file their VA benefits claim before they leave the service so they can get their benefits as soon as possible after they separate from service.



Sections
News
Topics
APSU, Austin Peay State University, Bach, Blanchfield Army Community Hospital, David Wesner, Fort Campbell KY, New York City NY, U.S. Department of Defense, VA, Veterans Affairs, vietnam, Vietnam Veterans