APSU Sports Information

Clarksville, TN – Austin Peay State University (APSU) head men's golf coach Robbie Wilson has released the 2018-19 schedule for the Governors, with the season set to kick off with the prestigious Golfweek Program Challenge in September.
The annual event, put on by golf's top weekly magazine, will kick off a five-event fall schedule which includes the annual F&M Bank APSU Intercollegiate at Greystone Golf Club and precedes a six-event spring which ends with the 2019 Ohio Valley Conference Men's Golf Championships in Florence, Alabama.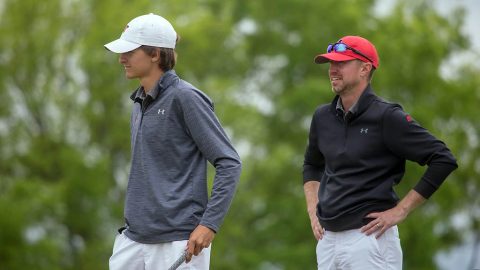 "We're looking forward to building off the success of last spring with a great schedule this upcoming season," Wilson said. "I wanted to challenge our guys to the next step in their development, with a goal of improving our rankings.
"Ultimately, we feel the competition will have us ready to compete for an OVC title in the spring."
The Govs kick off the campaign with a return to two tournaments they have not participated in for several years. Austin Peay will compete at the Golfweek Program Challenge (September 10th-12th) for the first time since 2015 after inclement weather canceled last season's event, and they will make their first appearance at the Memphis Intercollegiate (September 17th-18th) since 2013.
October's start sees the Govs make their return to the Hummingbird Invitational (October 1st-2nd) in Sapphire Valley, North Carolina—one of three regular-season events Austin Peay will make a return trip after competing in them a year ago. They'll also open up the spring campaign in Savannah, Georgia at the William & Mary-hosted Invitational at Savannah Harbor (February 16th-17th, 2019) and compete at the Wofford Invitational (April 1st-2nd, 2019) in Spartanburg, South Carolina.
The fall slate closes with the F&M Bank APSU Intercollegiate (October 15th-16th) and concludes with a trip to Kennesaw, Georgia for the Pinetree Intercollegiate (October 22nd-23rd).
After starting the spring slate at Savannah Harbor, the Govs will journey to Auburn for the Tiger Invitational presented by Jason Dufner (February 24th-26th), followed by a long journey to Boulder City, Nevada for the South Dakota State-hosted Jackrabbit Invitational at Boulder Creek Golf Club.
The final regular-season tournament for the Govs will be down the road at Lipscomb's home tournament, the Ryman Hotels Intercollegiate (April 8th-9th), at Richland Country Club in Nashville. That will give the Govs a week of rest heading into the 2019 OVC Men's Golf Championships at the Robert Trent Jones Golf Trail stop at Muscle Shoals, on the Fighting Joe course.
The 2019 NCAA Men's Golf Regionals begin May 12th, while the NCAA Championships in Fayetteville, Arkansas begins May 23rd.