City of Clarksville
Clarksville, TN – The City of Clarksville and the United Way of the Greater Clarksville Area have introduced a program designed to reduce panhandling by encouraging citizens to give to agencies that attack the real problems of need and homelessness.
The "Real Change, Not Spare Change" program urges citizens to refrain from making direct donations to panhandlers. Instead, the campaign encourages residents to contribute to agencies that provide food for people in need and to agencies whose mission is to provide services to homeless individuals and families.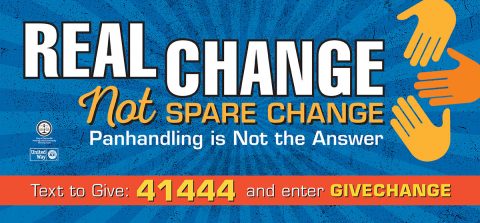 City of Clarksville Mayor Kim McMillan and United Way Executive Director Ginna Holleman unveiled the program at a news conference Wednesday, August 8th, 2018 at Clarksville City Hall.
"Clarksville is a compassionate community, and we have well-managed, successful agencies that are actively fighting homelessness and providing food for those in need," Mayor McMillan said. "With 'Real Change, Not Spare Change' we are suggesting that instead of handing money to panhandlers — who may or may not be homeless — we should donate to our local non-profits who will use these resources to attack the real problems people face."
The Real Change campaign is being coordinated by the City's Office of Housing and Community Development with the help of the local United Way and member agencies.
The program's main feature is a "Text to Give" system that offers residents an easy way to use a mobile phone or personal computer to make a donation to the United Way, which will then distribute the resources to three member agencies — the Community Action Agency, Manna Cafe and Urban Ministries — which have effective food and assistance programs.
The "Text to Give" system is easy to use. Simply dial the numbers 41444 into your mobile device's text message system, enter the word GIVECHANGE, and follow the prompts to donate.
"With 'Real Change' we want to truly help people," Holleman said. "This is designed to improve our community by encouraging donations to legitimate programs that can make a difference and help solve homelessness and hunger."
The Real Change program also includes a public awareness campaign, which will use billboards, posters, a web page and social media messaging. The campaign will promote the text giving system and convey the concept that giving to panhandlers isn't the solution to the larger problems of homelessness and need.
The Text to Give platform and Information about "Real Change. Not Spare Change" also is online at www.cityofclarksville.com/givechange
The web resources include a full directory of agencies offering food, assistance and services; advice about how to react when approached by panhandlers; a resource card to print out and share with people in need, and samples of "Real Change. Not Spare Change" materials that can be printed and used as posters in businesses throughout the area.
Sections
News
Topics
City of Clarksville, City of Clarksville Office of Housing and Community Development, Clarksville City Hall, Clarksville Mayor, Clarksville TN, Community Action Agency, Ginna Holleman, Homeless, Kim McMillan, Manna Café Ministries, Panhandlers, Real Change Not Spare Change, United Way of Greater Clarksville, Urban Ministries