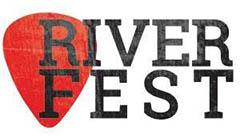 Clarksville, TN – Friday night fun at this year's Riverfest was slightly delayed as a storm moved through in the late afternoon hours, but by 6:00pm the sound of live music was echoing across the Cumberland River and McGregor Park was coming to life.
Riverfest is Clarksville's annual 3-day music and arts festival that features food, activities for kids of all ages, and an always impressive lineup of bands from Clarksville, Nashville and beyond.
Friday night's lineup included Kings Avail, Wyatt Long, Vinyl Square, Chased by Giants, Britney Monroe, Spencer's Own, and more.
Saturday's entertainment kicks off with The Travelers at 12:00pm. An impressive list of performers will rock the Riverfest stages throughout the afternoon and into the evening, with performances by Not Easily Broken, Mathew McCloskey, Big 5, Lauren Corzine, Payton Taylor, and Annie Kennedy.
The festival will come to a close after much-anticipated sets by local-favorite The Beagles, and this year's headliner Sister Hazel.
Sister Hazel, originally from Florida, has had great success over their 25-year career. They have been described as an American alternative rock band. They blend pop, folk, classic rock and southern rock to create a unique sound that produced a string of hits that began with All For You in 1994.
Clarksville Parks and Recreation's Rob Rayburn talked about this year's festivities.
"We had a slight rain delay, but we have our music online now," Rayburn said. "We have great food, and vendors selling all types of merchandise. We also have our community partners here, and this year we are all promoting 'going green' and recycling."
Rayburn said that, unfortunately, one of the bands didn't get to play because of the rain delay, but the rest of the schedule would go on as planned. Friday night's family zone was open until 9:00pm.
"Saturday morning, we have some early activities, Rally on the Cumberland, and the Riverfest Regatta," Rayburn said. "Then, the main festival opens at 12:00pm and we'll be open until 11:00pm.
"I'm a fan of Sister Hazel, our headliner this year. I love their song All For You, so I was very excited to get them to headline this year. My goal is to try to offer music from different genres each year."
Rayburn wanted to remind festival-goers that tickets to buy food are no longer required. In past years, guests had to stand in line to buy tickets for food and beverage purchases, then stand in line at each vendor.
"Now, they can use their debit or credit card and buy directly from the vendors," Rayburn said. "So, no more standing in line at the ATM, or to purchase tickets. This change was well received last year, it makes things a lot easier, and that's what we want. We want everyone to come out, bring the whole family, relax and have a great experience."
Photo Gallery