Clarksville-Montgomery County School System (CMCSS)

Montgomery County, TN – Through a partnership between the Tennessee College of Applied Technology (TCAT) and the Clarksville-Montgomery County School System (CMCSS), local students are pursuing new, innovative career-readiness pathways this school year.
The Early Technical College at TCAT is a unique, hands-on learning experience that allows students a no-cost opportunity to work towards an industry certification while also completing the necessary high school courses for graduation in the state of Tennessee.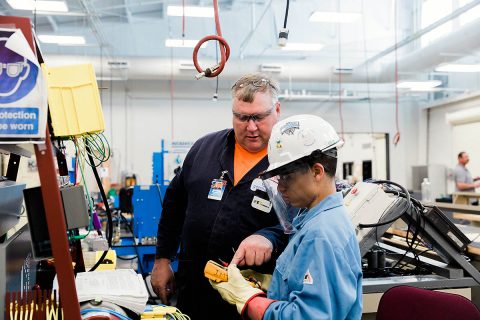 Additionally, students who qualify can use funding from Tennessee Promise to complete TCAT diplomas following HS graduation.
"CMCSS is committed to ensuring that multiple college and career pathways exist," stated Millard L. House II, Director of Schools. "Our hope is to build on to the foundation for a strong workforce, an improved quality of life, and a strengthened basis for success for our students."
Currently, students can choose one option from four pathways, earning up to two certifications for the chosen pathway.
The Diesel Powered Equipment Technology program provides practical experience in the repair and maintenance of diesel powered equipment. Students receive instruction in troubleshooting, engine analysis, disassembling engines, replacing defective parts, reassembling and other skills. The program's mission is to provide technical instruction and skill development that will enable students to enter employment in truck, construction, agricultural equipment, and other related fields as technicians.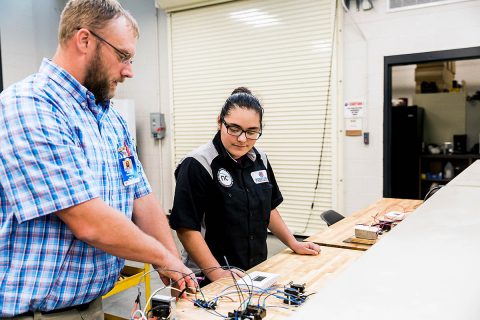 Heating, Ventilation, Air Conditioning/Refrigeration classroom and shop learning experiences include theory, application, and service of air conditioning and refrigeration equipment. Print reading, basic electronics, pneumatics, math, programmable controllers, refrigerant containment certification (EPA certification), and heat pump technology are basic components of this program. Upon completion, students will be prepared to enter jobs as service technicians in a variety of domestic, industrial, and commercial settings.
The Industrial Electrical Maintenance/Mechatronics program includes classroom and hands-on experience in electronics, electrical, pneumatics, hydraulics, motor controls, programmable controllers, robotics, machine shop, and related mathematics. Students completing this program will be prepared to perform in entry level positions within a typical industrial environment.
Pharmacy Technology students will be prepared to work as pharmacy technicians in healthcare settings. Instruction includes anatomy and physiology, medical terminology, pharmacy math, and other courses along with supervised clinical training. Pharmacy technicians prepare medications under the direction of a pharmacist, and may measure, mix, count, label, and record amounts of medication dosages according to prescription orders.
"One size doesn't fit all when it comes to education," said Dr. Jean Luna, Clarksville-Montgomery County School System Director of High Schools. "It is important for us to offer as many options as possible to meet the needs of our diverse student body. By providing numerous industry-aligned and student-interest-based pathways, we can empower our students to make choices that help them achieve their career and life goals."
This program is only for CMCSS students. All classes required for a high school diploma are taken on the TCAT campus using an online program called Connections. Through the Connections program, students have access to a certified TN teacher who oversees their progress in each high school course and offers individualized supports as needed. Furthermore, all classes required for TCAT certifications are taught by a certified TCAT instructor.
"What I have seen so far with the students that have come into this program is that they have come here because this is what they are truly interested in doing," stated Mr. Hal Bedell, Early Technical College at TCAT Administrator. "These students understand that they are going to come out of this program career ready. This excites them and is the hook that keeps them focused on graduation."
More information on how Clarksville-Montgomery County School System students can apply for this program in the 2019-2020 school year will be released this fall. For more information on the program, visit www.cmcss.net/TCAT or email