Austin Peay State University (APSU)

Clarksville, TN – The BAND Foundation of Washington, D.C., recently donated $100,000 to the Austin Peay State University Foundation as a contribution for the ongoing effort to fund the Southeastern Grasslands Initiative (SGI) at APSU.
BAND also issued a dollar-for-dollar challenge gift to SGI, agreeing to match up to $250,000 of funds raised through the end of 2019.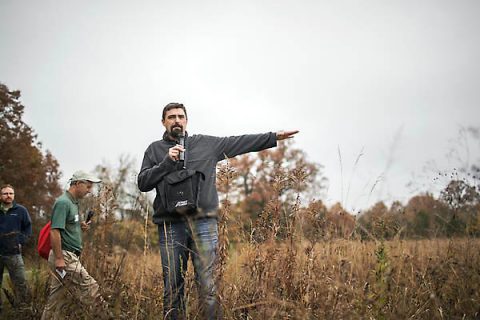 The agreement between the two nonprofit organizations was completed in August 2018. The APSU Foundation and the SGI executive director will manage the distribution of the gift.
SGI is a collaboration of leaders in international biodiversity conservation led by the APSU Center of Excellence for Field Biology.
SGI seeks to integrate research, consultation and education, along with the administration of grants, to create innovative solutions to address the multitude of complex issues facing Southeastern grasslands, among the most imperiled ecosystems in North America.
The initiative will identify donor-related opportunities as well as a donor base for the purpose of conducting a feasibility study. It will also develop a plan for funding core support.
"The BAND Foundation's primary focus is biodiversity conservation, and there is perhaps no greater threat to that cause in North America than the loss of Southeastern grasslands," BAND Foundation Secretary Clark Mitchell said. "We are providing Austin Peay State University's Southeastern Grasslands Initiative with a dollar-for-dollar challenge gift to raise funds that will be used to protect these quickly vanishing habitats."
"Our gift is meant to help SGI continue to find the large network of funding sources that will be crucial to driving these efforts forward. These sources will include other foundations, state and federal agencies, corporations and generous individuals. We have great faith in the team that is in place at the Southeastern Grasslands Initiative, and are excited about the impact that SGI will have not only on the biodiversity of the southeastern United States, but on the lives of so many volunteers in communities across the region who are ready to make a difference," stated Mitchell.
The BAND Foundation is a private family foundation established in 1999 by Burks and Anthony Lapham and their children, Nicholas and David. It seeks to advance the family's charitable interests through strategic grant making, primarily in the areas of nature conservation, epilepsy research and climate change (the latter via an affiliated donor advised fund).
The Foundation supports programs in the U.S. and abroad with a special emphasis on geographies with which the family has present or historic ties. BAND believes in a flexible, risk-tolerant approach to grant making, through which it seeks to provide timely support to critical issues, catalyze effective partnerships and unlock larger financial flows from public and private sources.
"We appreciate the BAND Foundation and its support of this initiative," Dr. Alisa White, APSU president, said. "The Foundation's involvement will assist Austin Peay in achieving our goal of educating future conservationists and promoting the preservation of our local and regional ecosystems."
To donate to SGI, contact the APSU Office of University Advancement at 931.221.7127.