Austin Peay State University Sports Information

Dallas, TX – Austin Peay State University (APSU) women's tennis team earned a few hard fought victories, including having two doubles teams advance to the main draw doubles finals, Saturday, at Southern Methodist University.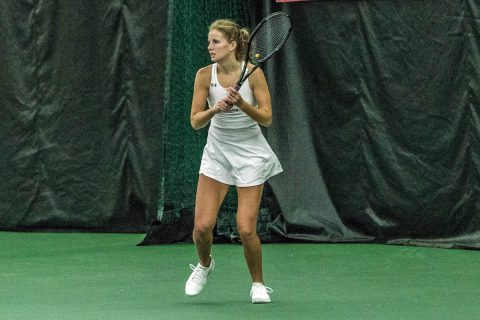 The team of Lidia Yanes Garcia and Claudia Yanes Garcia advanced to the main draw at No. 2 doubles with a victory over Middle Tennessee's Zani and Lee Barnard, 6-3.
Not to be outdone, Danielle Morris and Helena Kuppig also advanced to a main draw final at No. 3 doubles with a 6-1 rout of Judit Castillo and Antonia Blattner of Northwestern State.
Other Govs that performed well on Saturday included Lidia Yanes Garcia rebounding to advance to the No. 1 consolation draw final with a straight-set win over Karina Traxler of SMU.
Tatiana Lopez easily took care of Constandena Nicolaou of Houston with a 6-1, 6-2 win to advance to the consolation draw final at No. 2. Her teammate Fabienne Schmidt fell in the semifinals at No. 2, but will play for third place tomorrow.
Helena Kuppig won her second match of the day in the No. 5 singles draw, defeating Nanaka Takeuchi of UT- Arlington, 6-3, 6-4, to also advance to the consolation draw final.
The other Govs to win was the team of Lopez and Schmidt at the No. 1 doubles draw, advancing to the consolation final as well.
Play resumes at 10:00am today. Check out the full results linked above. Follow @AustinPeayWTN on Twitter for updates.