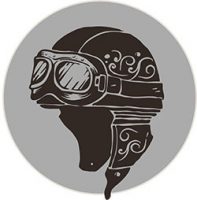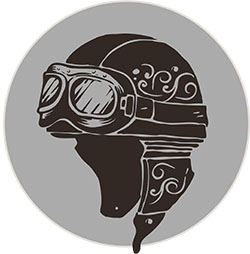 Clarksville, TN – One of the great things about being in Tennessee, is that the Smoky Mountains are just down the road. This time of the year is probably the most popular time of the year to visit, because of the beautiful fall colors, but for bikers, it's for the riding.
We left early Friday morning, and right off the jump, I pulled my back out. It was just a quirky thing when I raised up, "BOOM" I had a knot in my back. If you've ever had a problem with your sciatica then you know what I'm talking about. It didn't bother me while I was in the saddle, but as soon as I stood up, I could barely walk.
GREAT!
The trip to east Tennessee takes about 3 hours for me, zipping down I-40, but it seems like we're there in no time. Traffic was a little "busy" but it was the final weekend of Fall Break, and with the recent hurricane, it looked like a lot of folks cancelled plans for the beach and headed to the mountains.
Once we got off the interstate, we took off for the Devil's Triangle. Always a great ride, if only for the fact that it's not as crowded as the Tail of the Dragon. I like both, but you won't find the NASCAR "wannabe's" on the Triangle. There were two deaths on the Dragon in September.
We landed in Oak Ridge for lunch then took off down the Pellissippi Parkway. Spent the afternoon cruising down highways 321, 441 and the East Lamar Alexander Parkway. Rode through Cherokee, and the Blue Ridge Parkway.
This was my first trip down the Blue Ridge, and it was GORGEOUS!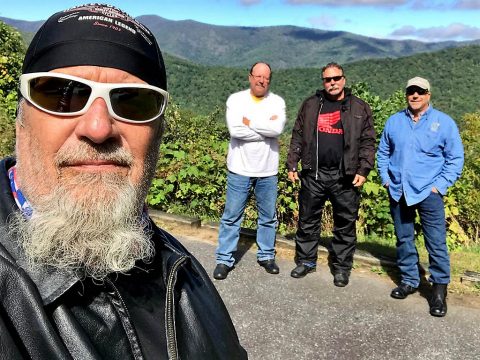 While all bikers would love to have the road to themselves, there was a benefit to having a crowded mountain this weekend. I realized that I didn't have to focus totally on the road, but I could actually cruise along and enjoy the fresh air, beautiful scenery, and wonderful colors. We miss a lot of that when we're just trying to "run and gun" down the mountain.
We stayed in Maggie Valley NC, and again, I've never been there. Great place. I didn't get a chance to visit Wheels Through Time.
Saturday we rode with a group of Honda Gold-Wingers who my riding partner was affiliated with. We took a morning cruise down Highway 19, then we split off on our own, and hit the Moonshiner, Cherohala and into Tellico Plains for lunch.
The afternoon was highway 360 to 72, then the Foothills Parkway and highway 321 to Alcoa, where we gassed up and headed home.
I have to say, that I feel my confidence has fully returned since my accident. I've replayed the accident a million times and just wrote it off to a lack of concentration that caused me to lose my focus, ever so briefly, and off the road I went.
The first couple of times I got back on the bike, I felt apprehension and anxiety, especially through the corner, and wondered if I was even going to continue riding. This weekend changed all of that. Let's face it, you BETTER pay attention in the mountains.
I want to thank my riding partner and friend, Jay Christoffer and his brothers, Roy and Guy for a great day in the saddle.
We're headed back this weekend where the colors should be brighter, the weather a little warmer, and the riding more fabulous. Ride safe my friends, and thanks for coming along.
To stay in touch on a daily basis, follow me on Facebook. Turn on notifications and you won't miss anything.