#7 Tennessee Vols (6-1) at #1 Gonzaga Bulldogs (9-0)
Sunday, December 9th, 2018 | 2:05pm CT
Phoenix, AZ | Talking Stick Resort Arena | TV: ESPN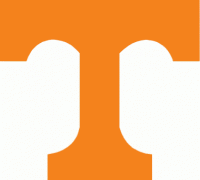 Phoenix, AZ – For the second time this season, the Tennessee Vols will take on a top-5 opponent on a neutral floor Sunday, as they play top-ranked Gonzaga in the Jerry Colangelo Classic at Talking Stick Resort Arena in Phoenix.
The game will tip at 2:00pm CT, and ESPN will carry the broadcast the top-10 matchup, which can also be streamed online through WatchESPN. Fans can also listen live on their local Vol Network affiliate to hear Bob Kesling and Bert Bertelkamp describing the action.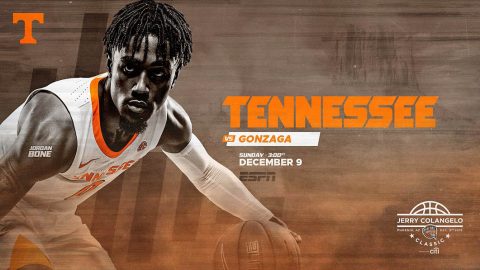 The Tennessee Vols (6-1) faced No. 2 Kansas in the NIT Season Tip-Off in November, dropping a hard-fought battle to the Jayhawks in overtime, 87-81. Since then, UT has taken care of business in a pair games against Eastern Kentucky and Texas A&M-Corpus Christi leading up to the showdown with the Zags.
Sunday's game will mark UT's 18th all-time meeting with a top-ranked foe, with the last coming against Kentucky in 2015.
In its last eight meetings against the No. 1 team, Tennessee is 4-4, including a pair of wins away from home.
The Series
The Tennessee Vols trail its all-time series with Gonzaga 1-4, dating to 2007.
This is the fifth time the teams are playing at a neutral site.
This is the third meeting between the programs since Rick Barnes arrived at Tennessee prior to the 2015-16 season.
The Tennessee Vols are 8-7 all-time against current members of the West Coast Conference.
A Win Would
Be Tennessee's fifth all-time win over the top-ranked team in the Associated Press poll.
Give Rick Barnes his 19th head coaching win over an AP top-five team and his first over the AP's top-ranked team.
Move Rick Barnes into a tie with Gary Williams for 25th on the all-time Division I wins list. Barnes was an assistant coach under Williams at Ohio State during the 1986-87 season.
Tennessee Volunteers Storylines
Sunday's game is part of the inaugural Jerry Colangelo Classic. The doubleheader also features a matchup between Nevada and Grand Canyon.
This is the first time in program history that UT has faced multiple teams ranked in the AP top five before the start of SEC play.
Top-ranked Gonzaga boasts the nation's second-best field-goal percentage at .530. Tennessee, however, owns the nation's fourth-best defense in terms of field-goal percentage, allowing opponents to shoot just .355.
Tennessee's 21.0 assists per game rank third nationally, while Gonzaga ranks tied for fifth (20.1 apg).
Grant Williams leads the SEC in scoring (20.4 ppg) and ranks second in field-goal percentage (.593) and rebounding (8.9 rpg).
As a team, Tennessee leads the SEC in field-goal percentage (.499), field-goal percentage defense (.355), 3-point defense (.287), assists per game (21.0 apg) and assist/turnover ratio (1.7).
Tennessee has scored 96 more points in the paint than its opponents this season (13.7 ppg).
Layup Lines
According to KenPom, Tennessee ranks in the top 15 in both offensive efficiency (15th) and defensive efficiency (12th).
Tennessee has committed fewer turnovers than its opponent in all seven games this season.
Grant Williams owns the team's best plus-minus per 40 minutes rating at +25.97. John Fulkerson is close behind with a rating of +25.43.
The Tennessee Vols have thrown down 28 slam dunks this season. That's an average of 4.0 dunks per game. Kyle Alexander leads the way with nine.
Admiral Schofield leads the Tennessee Vols with 13 made 3-pointers this season. He has made at least one 3-pointer in each of UT's last 13 games, dating to last season.
Guard Lamonté Turner is currently sidelined with a left shoulder injury. He has missed four games so far this season.
Tennessee Volunteers History vs. Top-Ranked Teams
The Tennessee Vols are 4-13 all-time against the No. 1-ranked team in the Associated Press poll.
Of those 17 previous meetings with the AP's top-ranked team, Kentucky has been the opponent 11 times.
The Volunteers are 4-4 in their last eight games against the No. 1 team in the nation.
Tennessee's victories over America's top teams have come against: Kentucky (69-62 on March 5th, 1966, in Knoxville), South Carolina (55-54 on December 6th, 1969, in Columbia), Memphis (66-62 on February 23rd, 2008, in Memphis) and Kansas (76-68 on January 10th, 2010, in Knoxville).
UT's most recent clash against a No. 1 team came at home against Kentucky on February 17th, 2015, as the Vols fell to top-ranked Wildcats, 66-48.
About the Gonzaga Bulldogs
Gonzaga head coach Mark Few has the nation's top-ranked team and one of the most talented squads in the country.
The Bulldogs (9-0) entered the season at No. 3 in the country before claiming the top spot after defeating then-No. 1 Duke, 89-87, for the Maui Invitational title in November. During the tournament, Gonzaga also beat Illinois and Arizona. The Zags are coming off wins over Creighton (on the road) and Washington.
Gonzaga's success so far is a direct result of its high-powered offense that sits at No. 1 in the country in field-goal percentage (.530) and No. 2 in scoring (96.4 ppg). Similar to Tennessee, the Bulldogs like to pass the ball to find the open shot, averaging 20.1 assists per game to rank fifth in the nation, one spot behind the Vols.
Junior forward Rui Hachimura is one of the best players in the country, averaging 22.3 ppg and 6.2 rpg while shooting 58 percent from the floor. He is a projected first-round pick in the 2019 NBA draft.
Brandon Clarke is averaging 16.4 ppg, 8.1 rpg and 3.4 bpg. The redshirt junior forward ranks fifth in the nation in field-goal percentage (.721) and has posted four double-doubles in eight games.
Gonzaga's offensive weapons don't stop there, as a pair of All-WCC first-team honorees hold down the backcourt for the Bulldogs. 2018 WCC Newcomer of the Year Zach Norvell Jr. is second on the team in scoring (18.1 ppg) and is a nightmare for opponents beyond the arc (30 3-pointers made). He's also averaging 5.6 rpg and 3.8 apg. Josh Perkins rounds out the double-digit scorers for Gonzaga at 11.3 ppg and also ranks third in the country in assists with an impressive 8.3 apg.
UT Vols Last Meeting vs. Gonzaga
After trailing by as many as 21, Tennessee fought back to within a couple possessions of No. 8 Gonzaga, but the second-half push went no further as the Vols fell to the unbeaten Bulldogs, 86-76, at Bridgestone Arena on December 18th, 2016.
The Tennessee Vols was led offensively by junior guard Detrick Mostella, who spurred the Vols' comeback attempt with 15 of his 17 points coming in the second half. Grant Williams added 11 points while Robert Hubbs III finished with 10.
Billed as The Battle on Broadway, Sunday's game between Tennessee and Gonzaga was a rematch of last season's Battle in Seattle. This season's edition played out in a similar fashion as the one before it, with the Bulldogs jumping out to a big early lead and the Vols nearly erasing it.
Facing a 14-point deficit at halftime, Tennessee finally whittled the Gonzaga lead to single digits with 8:42 to play when Mostella knocked down a pull-up jumper. A Bulldog free throw pushed the lead back to 10, but Mostella promptly buried one his three 3-pointers on the night to make the Gonzaga lead 68-61 with 7:12 to play.
A trey from Lamonté Turner and a put-back from Jordan Bowden in the ensuing minutes got the Tennessee Vols to within four at 70-64. Gonzaga answered with a 5-0 spurt, but another rally—highlighted by a Lew Evans three and a tough jumper in the lane from Hubbs—had the Vols within striking distance again at 75-71 with 2:26 to play.
It was as close as UT would come, though, as Gonzaga's Josh Perkins hit a jumper late in the shot clock and the Bulldogs ultimately saw out the game at the foul line.
Tennessee forced 20 Gonzaga turnovers and pulled in a season-high 20 offensive boards.
Barnes Familiar With Few
Vols head coach Rick Barnes on his relationship with Mark Few: "I think I met Mark for the first time back when I was at Clemson. It may have been the first or second year at the Top of the World tournament up in Alaska.
He was the assistant coach, and they beat us. We've gotten to know each other ,and he's a wonderful person and great guy. We just kind of clicked a little bit, but that was the first time I would've met him. I think that would've been my third year at Clemson… maybe in 1995 or 1996."
Memorable Vol Performances Against Gonzaga
Tennessee and Gonzaga had never met on the hardwood until the 2006-07 season, but the programs are clashing for the sixth time today.
In the "Battle in Seattle" on December 29th, 2007, six Vols scored in double figures, led by JaJuan Smith's 18 points. Sophomore forward Tyler Smith totaled 11 points, 11 rebounds and six assists. Tennessee won that game, 82-72 (one of only four times Gonzaga has lost its Battle in Seattle game).
It wasn't enough to prevent an 83-74 loss in the championship game of the Old Spice Classic, but Vols forward Tyler Smith did all he could by totaling 17 points, seven rebounds, and three assists vs. Gonzaga in Orlando, Florida, on November 30th, 2008. The teams would meet again in Knoxville 39 days later.
Cameron Tatum scored 14 straight points for the Tennessee Vols after Gonzaga raced out to an early 6-0 lead on January 7th, 2009, at Thompson-Boling Arena. Tatum finished with a then-career-high 22 points, tying his previous high of 19 points by halftime. Vols forward Wayne Chism added 15 points and 19 rebounds, but the Bulldogs triumphed in overtime, 89-79, to snap UT's 37-game home win streak.
In an 86-79 loss at the 2015 "Battle in Seattle" at KeyArena, Kevin Punter Jr. finished with team-highs in points (23) and assists (5) while also pulling down five rebounds.
Bone Driving Vols' Offense
Point guard Jordan Bone—touted by Rick Barnes as the team's most improved player prior to the season—is the sparkplug of Tennessee's offense.
In addition to averaging a career-best 13.0 points, Bone leads the Vols with 5.7 assists per game and a 3.3 assist/turnover ratio (third in the SEC).
He has 28 assists and only five turnovers over UT's last four games (131 minutes played).
Bone's 40 assists have directly led to 88 points. Coupled with his 91 points scored, he is responsible for 31 percent of the team's scoring (179 of 586).
Hoops Ranked High On Rocky Top
Tennessee is the only school in the nation whose men's and women's basketball teams both are ranked in the AP top 10.
The Vols are ranked seventh in the country, while the Lady Vols are the AP's ninth-ranked team.
Up Next for the Tennessee Vols
The UT Vols enjoy another week off before heading to face in-state foe and longtime rival Memphis on the road Saturday, December 15th, at 11:00am CT. The matchup, which is part of a three-game series, will be broadcasted live on ESPN2.