APSU Sports Information
Fort Campbell, KY – The Austin Peay State University (APSU) baseball team opened its preseason preparation with a visit to Fort Campbell and the 160th Special Operations Aviation Regiment (SOAR) for team-building activities.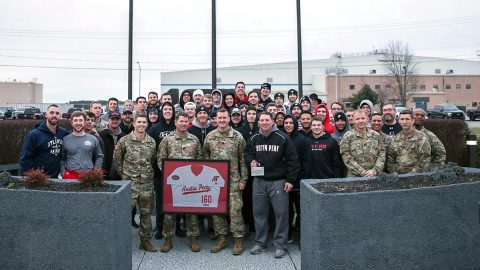 The Governors began the day learning about the history of the 160th SOAR before completing team activities with the unit, including search and recovery simulation, pulling a Humvee and team calisthenics.
The afternoon saw the Governors and 160th SOAR meet for leadership activities that included a question-and-answer period as the groups discussed their backgrounds and challenges they faced.
The day concluded with the team visiting the 160th SOAR's facilities at Fort Campbell. Following the visit, the 160th SOAR and Governors traded tokens of appreciation for their participation in the day's events.