Tennessee (12-7 | 1-5 SEC) vs. LSU (12-6 | 3-3 SEC)
Sunday, January 27th, 2019 | 12:02pm CT
Knoxville, TN | Thompson-Boling Arena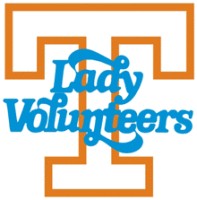 Knoxville, TN – The Tennessee Lady Vols basketball team (12-7, 1-5 SEC) is back in action on Sunday in its third of four straight home games, as LSU (12-6, 3-3 SEC) comes to Thompson-Boling Arena for the annual "Live Pink, Bleed Orange" game.
The contest's visibility will be used to raise awareness toward the fight against breast cancer. UT head coach Holly Warlick and LSU's Nikki Fargas have been active participants in that fight with their fundraising organization Champions for a Cause.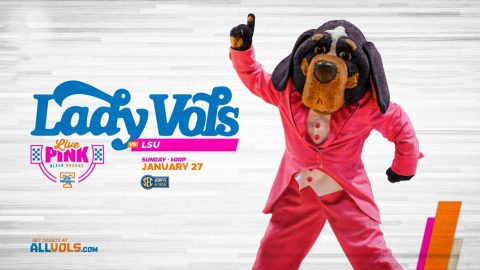 Tip-off is slated for 12:02pm CT, with the game being carried by the SEC Network and the Lady Vol Radio Network. Sunday's game is UT's third game in seven days, with both Arkansas and LSU having open dates prior to facing the Lady Vols and getting an entire week to prepare.
A youthful Tennessee Lady Vols team has endured some tough lessons in SEC play, falling in five straight contests. Four of those five setbacks, however, came by a combined total of nine points.
UT stepped outside of league play on Thursday night and lost its sixth straight contest, but the Lady Vols played well in leading No. 1/1 Notre Dame through the first two quarters before eventually falling to an experienced and defending NCAA champion Fighting Irish squad, 77-62.
LSU played last Sunday at Alabama and secured a 62-56 victory in Coleman Coliseum to even its SEC record. The win snapped a two-game losing skid, as the Lady Tigers had fallen in home games against South Carolina (76-53) and Kentucky (64-60). LSU's contests have been mostly low-scoring efforts on both sides, as the team averages 57.2 points per game in league play and allows 58.7 ppg.
The Lady Tigers' highest point total has been 63 vs. Texas A&M, while only South Carolina (76) has scored more than 64 vs. LSU.
Broadcast Information
Pam Ward (play-by-play) and Carolyn Peck (analyst) will describe the action for the SEC Network.
Mickey Dearstone is handling the call for IMG College/Lady Vol Network radio/online broadcasts for the 20th season. A link to the live audio stream can be found on each game's Hoops Central page or the Lady Vol schedule on UTSports.com.
Air time for games on the Lady Vol Radio Network generally occurs 30 minutes prior to tip-off.
For UT home games, the Lady Vol Network has a low-power transmitter that makes the game available on the radio at 99.3 FM.
"Live Pink, Bleed Orange" Game
Sunday is UT's Live Pink, Bleed Orange game. Join us for a pink-themed game in Thompson-Boling Arena as we increase awareness in the fight against breast cancer.
Arrive early to get your 2019 Live Pink, Bleed Orange T-Shirt, one per person while supplies last.
UT Medical Center's Mobile Mammography unit will be providing 3D Tomo screenings from 11:00am-12:45pm outside the arena on Phillip Fulmer Way. For more info. or to schedule an appointment, call the UT Breast Health Outreach Program at 865-305-9753.
Other Promotions
Enjoy the pre-game Kids' Corner at Gate F. It opens one hour prior to tip-off. Fun includes free face painting, the Big Orange prize wheel, visits from Smokey and cheerleaders, dog crafts, cookie decorating and more at the Kids' Corner.
Post-game Lay-ups: Kids 12 & younger can shoot a lay-up on the court after the game!
High-Five Tunnel: Kids 12 & younger can pick up a wristband at the Fan HQ table on the concourse to participate in the pregame High-Five Tunnel. Wristbands are limited. To purchase discounted group tickets and reserve wristbands for your team, call 865-946-7000.
Help us Spark the Summitt during introductions at the arena! Download our new free light-up app, courtesy of Coca-Cola. Once downloaded, simply open your Hoops Hype app when the lights go out, and let your phone do the rest.
Tickets are available for as low as $15.00 at AllVols.com.
Free parking & shuttle service will be available from UT's Ag Campus. Shuttles begin two hours prior to tip-off.
Tennessee Lady Vols – LSU Series Notes
UT enters the 64th meeting in the series with a 48-15 edge, including a 21-3 record in Knoxville, 15-8 slate in Baton Rouge and a 12-4 mark at neutral sites.
Tennessee has won 11 of the last 14 meetings, but LSU has taken two of the past three.
Holly Warlick owns a 5-3 record against Nikki Fargas as a head coach. Fargas is the only former Lady Vol player to ever hand Warlick a loss as a head coach.
The Lady Vols are 1-1 vs. LSU in overtime games. The last time the two teams went to OT was on March 1st, 1997. Tennessee won the game 100-99 to advance to the semifinals of the SEC tournament.
The last time these programs met with both teams ranked was on January 2nd, 2014, when #16 LSU upset #5 Tennessee in Knoxville, 80-77.
UT has scored 77 points vs. LSU in two of the past three meetings in Knoxville and had 75 in the middle tilt of that trio of games.
About the Tennessee Lady Vols
20 Club
Evina Westbrook is just the fourth Lady Vol (and first sophomore) in the past decade to have nine or more 20-point games in a season. Other Lady Vols to achieve that feat are Jaime Nared (11, 2017-18), Diamond DeShields (10, 2015-16 & 11, 2016-17) and Meighan Simmons, (10, 2012-13 & 2013-14).
Zaay Leads The Way
Zaay Green became the first player other than UT's trio of Rennia Davis, Meme Jackson and Evina Westbrook to lead the team in scoring when she fired in a career-best 19 vs. No. 1/1 Notre Dame. She has raised her overall scoring average to 10.6 ppg. and ranks as the No. 2 freshman in scoring in league games at 11.3 ppg. In all games, she is second among rookies in scoring (10.6 ppg), T2nd in rebounding (4.4 rpg) and T3rd in assists (2.4 apg).
London Calling
Cheridene has been on a roll of late, posting double-figure rebounding totals in five of her past six games. She is averaging 10.5 rpg. the past six contests.
In Search Of The Trio
In its 12 wins, UT's Rennia Davis (15.6), Meme Jackson (14.7) and Evina Westbrook (14.3) are all averaging double figures in scoring. Zaay Green and Cheridene Green provide 9.3 and 8.3 ppg. In its six losses, Westbrook is averaging 21.0, Zaay Green 13.0, Davis 9.0, Cheridene Green 8.4 and Jackson 7.0.
Second Chances
Tennessee's rebounding has been a strength this season, especially on the offensive glass. UT is ranked No. 5 with 17.7 offensive boards per game, and the Lady Vols have won the second chance points battle in 15 of 19 games by an average of 14.6 to 9.6.
Youngsters Contributing
In addition to a young starting lineup, UT has youth coming off the bench as well. UT has impressively won the bench points battle in 13 of 19 games, outscoring foes 16.9 to 12.1.
Getting To The Line
UT is ranked No. 19 in free throw attempts this season. Despite Notre Dame having 28 trips to UT's eight Thursday night (their fewest all season), the Lady Vols have shot more free throws than their opponents in 13 of 19 games.
Last Time Out for Tennessee Lady Vols
Freshman guard Zaay Green scored 15 points in the first half to put UT up 34-31 at the break, but No. 1/1 Notre Dame rallied in the second half to grab a 77-62 win Thursday night at Thompson-Boling Arena.
Green finished the game with a career-high 19 points, eight rebounds and five assists. Sophomore point guard Evina Westbrook was Tennessee's second highest scorer with 16 points, while senior forward Cheridene Green pulled down a team-high 11 rebounds for her seventh double-digit rebound game of the season.
Despite a four-point first-half performance, Arike Ogunbowale finished as the leading scorer for the Irish (19-1, 6-0 ACC) with 28 points, while three other Notre Dame players posted double-digit points. Jackie Young recorded a triple-double with 16 points, 13 rebounds, 10 assists and only two turnovers.
About the LSU Tigers
The Tigers are in the eighth year under head coach Nikki Fargas.
Preseason All-SEC Second Team selection Ayana Mitchell, along with returning starters Faustine Aifuwa, Jaelyn Richard-Harris and Khayla Pointer highlight the team.
Mitchell leads the team in scoring (13.2 ppg) and rebounding (9.7 rpg).
LSU is 1-3 against ranked opponents this year, defeating then-No. 21 Texas A&M (63-52), but losing to No. 21 South Carolina (53-76) and No. 16 Kentucky (60-64).
LSU finished 19-19 overall (11-5 SEC) last season.
The Tigers lost senior Raigyne Louis, who was named the team's MVP and Defensive Player of the Year for the second year in a row. During last season, she scored 466 points, 169 rebounds and 67 steals while dishing out a team-leading 112 assists.
LSU'S Last Game
The LSU women's basketball team bounced back after two tough losses to defeat Alabama on January 20th by a score of 62-56.
Khayla Pointer led the Lady Tigers with a career-high 26 points while adding six rebounds and three steals.
Faustine Aifuwa had another productive game, scoring 11 points and grabbing eight boards. Ayana Mitchell scored in dou-ble-digits with 10 points and had six rebounds.
The Last Time We Met
Mercedes Russell scored 14 points and added 10 rebounds, but No. 10 Tennessee could not overcome a 44-point second half by LSU in a 70-59 loss in Baton Rouge on January 28th, 2018. Russell also tallied her ninth double-double of the season and 39th of her career with 14 points and 10 rebounds.
Meme Jackson recorded 13 points and three 3-pointers, while Evina Westbrook dished out seven assists to go along with 10 points for UT.
Jackson scored an SEC career-high 13 points, 11 of which came in the second half, marking her sixth double-figure scoring game of the season and ninth of her career. Jackson shot 3-of-6 from the 3-point line.
An 8-0 LSU run, highlighted by six points from Chloe Jackson, gave the Lady Tigers their first 10-point advantage during the game.
Last Time Tennessee Lady Vols Hosted LSU
No. 25 Tennessee led for nearly the entire game and used a strong fourth quarter to pull away from an upset-minded LSU squad for a 77-58 win at Thompson-Boling Arena on Feb. 2, 2017.
Jaime Nared and Diamond DeShields both posted double-doubles and four UT players scored in double figures, as the Lady Vols (15-7, 6-3 SEC) won their fourth straight game. Tennessee shot a blistering 53 percent from the field and out-rebounded the Tigers, 42-28.
DeShields, Nared and Mercedes Russell came up big, combining for 59 of the team's 77 points on the night.
Coming Up For Tennessee Lady Vols
UT plays its fourth straight home game on Thursday, as Florida visits The Summitt for a 6:00pm CT contest (SECN+).