Austin Peay State University (APSU)

Clarksville, TN – The Southeastern Grasslands Initiative (SGI) held its inaugural volunteer workday at Dunbar Cave State Park on January 27th, 2019.
The predicted winter weather conditions gave way to perfect conditions for working outside.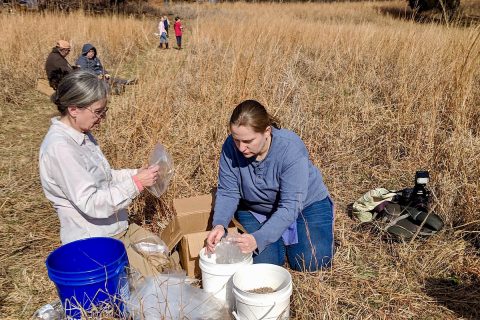 Families and individuals united by an interest in getting involved in something positive for the environment came together to lend a hand for the restoration of a new native grassland area that locals and visitors will enjoy for years to come.
By the end of the day, more than 50 people (children and adults) — some from sister organizations — volunteered as restorationists and citizen scientists to support the goal of local conservation. New friendships were created while old ones were rekindled.
"I came with the idea of volunteering time just to help out, but left with a whole new understanding, appreciation and sense of urgency for native grassland restoration," volunteer John Webb said. "I got to meet a lot of great people of all ages from the community who also shared a passion for restoring native habitat."
The activities included clearing invasive species, identifying species after receiving a quick training in the use of the iNaturalist app, planting native seeds by hand, wickiup (grass hut) building for the kids and the young at heart, and a historic tour by SGI's co-founder and executive director Dr. Dwayne Estes.
Anyone interested in future volunteer opportunities are invited to sign up as an SGI volunteer here.
About the Southeastern Grasslands Initiative
The Southeastern Grasslands Initiative (SGI) is a project of Austin Peay State University and aims to preserve, restore and promote grasslands of all types throughout the Southeast. About one-half of all rare habitat types in the Southeast are grasslands, which in turn harbor 60 percent of rare plant species and provide habitat for 35 percent of rare animals from bobwhites to box turtles.
At the same time, restored native grasslands have a mutually beneficial relationship with working lands. Well-managed grazing, haying and prescribed fire can contribute enormously to grassland habitats and species while improving the bottom line of private agriculture, forestry or recreation operations.
For More