Montgomery County Sheriff's Office (MCSO)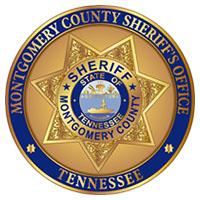 Clarksville, TN – Early Monday morning, the Montgomery County Sheriff's Office (MCSO) provided mutual aid assistance to the Hopkinsville Police Department and the Christian County Sheriff's Office (CCSO) as they worked to locate and apprehend a robbery and officer shooting suspect who fled to Montgomery County.
Information gathered during the course of the investigation led law enforcement to the River Road area in Montgomery County. At approximately 8:54am, CCSO and MCSO deputies spotted the suspect driving a vehicle near Zinc Plant Road. The deputies activated their emergency equipment in an attempt to initiate a traffic stop.
The suspect failed to stop. He lead deputies on a pursuit through several roads in the area.
When the vehicle made a final turn on Highway 48/13 to head back into town, Sergeant Derico with the MCSO deployed spike strips to slow the vehicle and a CCSO Deputy successfully and safely used the PIT (Pursuit Intervention Technique) to bring the vehicle to a stop.
The suspect was taken into custody at approximately 9:08am. He was transported by ambulance to a local hospital to be medically cleared before being transported to the Montgomery County Jail.
The suspect, Keith Allen Kuzyk, 28, will be charged with felony evading. His bond is $100,000.