APSU Sports Information

Murray, KY – Alright. Next. That's the attitude Austin Peay State University (APSU) men's basketball team has to adopt following a 94-83 loss to Murray State in the regular season finale.
It wasn't the ending to the regular season anyone in red was hoping for. But the next season starts now.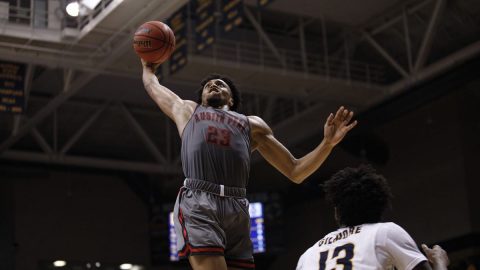 Austin Peay (21-10, 13-5 Ohio Valley Conference) may have concluded an otherwise-stellar regular season on a lower-than-hoped-for-note, but the Govs have five days to prepare for next week's OVC Tournament in Evansville. And they'll take away plenty of learning experiences from this contest into a series of big games next week.
For the first time since the Troy game in late November, the Govs had a lineup change; Antwuan Butler and Jabari McGhee entered the lineup, while Steve Harris and Jarrett Givens joined the second unit. This switch seemed to provide a spark for Harris, who scored 16 points in the first half alone.
The Govs would build their lead to eight points in the first half, helped by threes from Isaiah Hart and Terry Taylor. Marked by Brion Sanchious, Murray State's (25-4, 16-2) ace post defender, Taylor rendered the situation moot by taking Sanchious out to the perimeter and hitting four threes in the first half.
On home court, it would've been surprising if the Racers didn't rally, and rally they did. During one particularly up-and-down stretch, the Racers tied the game on a Devin Gilmore lay-up at the 8:03 mark, only to have Zach Glotta answer with a jumper, followed by a Sanchious lay-up, answered by a Harris jumper, over 1:01 of playing time. Another Gilmore lay-up at the 3:37 mark tied it up again, but the Govs closed on a 7-3 run, with Taylor hitting another moonball three and Harris punctuating the half with a layup to make it 46-42 Govs at the break.
An Isaiah Hart lay-up at the 18:32 mark gave the Govs a six-point lead early in the second, but 10-2 Racer run put the hosts up a bucket. By the 9:50 mark, the Racers were in the bonus and Porter-Bunton, Harris and Butler were in various states of foul trouble. It was emblematic of the contest at large, as Murray State shot 25 free-throws, compared to just eight for the Govs.
A 7-2 Austin Peay run cut a deficit that had reached eight points down to three with just under three minutes to play. However, the Govs could get only two of their final five shots to go down, while Murray hit all three shots from the floor and six free throws over the final 2:31 of the contest.
The Difference
I believe we covered the free-throw disparity.
APSU Notably
Harris poured in a career-high 26 points in his final regular-season appearance as a Gov. His 13 made field goals also represented a career-best for the St. Louis native.
This is Austin Peay's fifth straight loss in the series.
With 16 turnovers, Austin Peay snapped a seven-game streak with fewer than 10 turnovers, longest this century.
McGhee finished with 12 points and 10 boards for his fifth career double-double as a Gov.
After holding Murray State's bench scoreless in the previous meeting, Austin Peay surrendered 23 to the Racers reserves Saturday. The Governors second unit did their part, scoring 38—most against an OVC foe this season.
The loss is just Austin Peay's second this season when leading at halftime—both against the Racers.
Taylor had 23 points and eight boards, hitting 8-of-14 from the floor and splashing in those four first-half threes. He's hitting 80.0 percent (48-of-60) at the free-throw line and 55.0 percent (105-of-191) from the floor over the last 11 games.
The five made free-throws equaled a season-low for the Govs set February 7th against SIU Edwardsville. The 21 free-throws sank by the Racers equaled the season-high for an Austin Peay opponent (USF, November 12th).
Opponents are hitting 50.2 percent (169-of-337) from the floor over the last six games.
This is just the second time this season in which the Govs have lost a game when outscoring their opponent in points off turnover; the last came Thursday against Eastern Kentucky.
APSU Coaching Quotables with Head Coach Matt Figger
On reaction of the team
"I hope they react in a positive way. It's a new season now. We've got to get better. We didn't achieve the goals I wanted to achieve this season, but there's always another chance. We're going to have to be good for three days if we want to fulfill our dreams."
On Harris
"I thought he played aggressively, something he hadn't done in five games. I thought he got back in attack mode and it gave us a spark, it's what we needed."
Up Next for APSU Govs
It's tourney time! Austin Peay will open play in next week's OVC Tournament as the No. 4 seed; that game is scheduled to tip at 6:30pm Thursday, March 7th from the Ford Center in Evansville against either fifth-seeded Morehead State or eighth-seeded SIU Edwardsville.