Austin Peay State University Sports Information

Kennesaw, GA – Austin Peay State University (APSU) men's tennis team could not keep its momentum going, falling to Kennesaw State, 4-0, Saturday, at the Betty Siegel Courts.
The Governors (3-7) led in two singles matches, but the Owls (3-4) fended off the Govs after a slow start.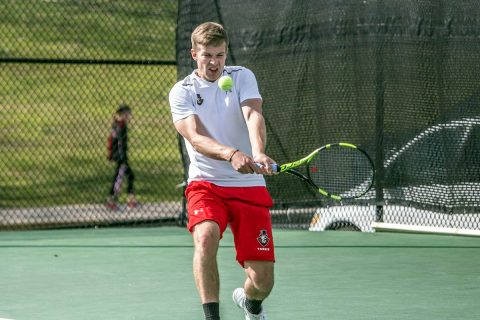 The Owls (3-4) won the doubles point after a quick two wins at No. 1 and No. 3 doubles, leaving the Govs with some work to do in singles.
Despite Almantas Ozelis and Christian Edison winning the first set in their matches at No. 1 and No. 2 singles, the Owls won the first sets at No. 3 through No. 6 singles.
Ozelis and Edison did not get a chance to finish their matches, with the Owls at No. 3, No. 5, and No. 6 singles to shut out the Govs, 4-0. Hunter Sanders also saw his four-match winning streak snapped with the loss.
The Govs stay on the road to take on Bethune-Cookman, 2:30pm, Monday.
Box Score
Results: Kennesaw State 4, Austin Peay 0
Doubles
1. Bryan Triana/Drew Lahey (KSU) def. Almantas Ozelis/Anton Damberg (APSU) 6-2
2. Jack Sorel/Cian Maguire (KSU) vs. Christian Edison/Timo Kiesslich (APSU) 3-2, unfinished
3. Harvey Maughan/Lucas deTorres Curth (KSU) def. Jacob Lorino/Chad Woodham (APSU) 6-0
Singles
1. Bryan Triana (KSU) vs. Almantas Ozelis (APSU) 4-6, 5-2, unfinished
2. Gaston Muhammad (KSU) vs. Christian Edison (APSU) 3-6, 6-3, unfinished
3. Lucas deTorres Curth (KSU) def. Anton Damberg (APSU) 6-1, 6-1
4. Sebastian Osorio (KSU) vs. Timo Kiesslich (APSU) 6-3, 4-3, unfinished
5. Harvey Maughan (KSU) def. Jacob Lorino (APSU) 6-4, 6-1
6. Cian Maguire (KSU) def. Hunter Sanders (APSU) 6-1, 6-3
Order of finish: Doubles (3,1); Singles (3,5,6)