APSU Sports Information

Clarksville, TN – The Austin Peay State University (APSU) softball team will open the home part of its 2019 regular-season schedule, 2:00pm Sunday, March 10th at Joe and Cathi Maynard Stadium-Cheryl Holt Field as they play host to North Alabama in a doubleheader.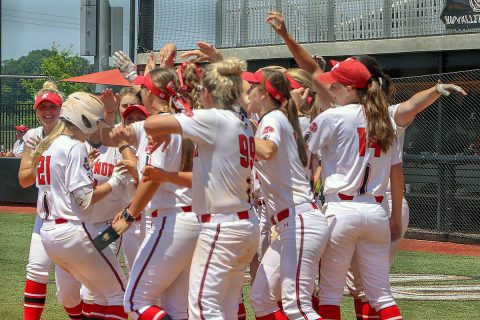 Not only will these games be the first this season at home for the Governors, they will also be the first games played at the stadium after the completion of its new bleachers and press box structure.
The Govs (11-10) come into the matchup versus the Lions having dropped its last two games, including a 7-2 mid-week final at Ole Miss on Wednesday.
Coming into the first home games of the season, the Govs offense is led by current Ohio Valley Conference Player of the Week Danielle Liermann, who is hitting at a .375 clip, with two doubles, eight home runs and 20 RBIs.
She is followed by a trio of teammates also hitting .300-or-better, led by Kelsey Gross (.379, 1 HR, 7 RBI), Carly Mattson (.352, 5 HR, 18 RBI) and Kacy Acree (.301, 4 HR, 15 RBI).
In the circle, Morgan Rackel has been the workhorse of the Govs staff posting a 7-5 overall record with a 3.01 ERA in 76.2 innings of work, while striking out 86.
Kelly Mardones follows at 3-4, with a 4.32 ERA and 16 strikeouts in 45.1 innings pitched, while Gross rounds out the staff with a 1-1 record – with two saves — a 2.67 ERA and 12 strikeouts in 21 innings.
The Lions (10-5) are led offensively by Veronica Westfall (.422, 2 2B, 9 RBI), Lexie Harper (.316, 1 HR, 4 RBI) and Harley Stokes (.289, 5 HR, 11 RBI).
The UNA pitching staff is led by Sidney Revels (2-0, 0.89 ERA, 30 K's) and Megan Garst (4-2, 1.05 ERA, 57 K's).
APSU Governors Hit and Run
The matchup versus North Alabama is the first between the Govs and Lions since April 12th, 1990.
The home doubleheader ends a school-record stretch of 21 games played away from Clarksville to open a season.
Senior outfielder Kacy Acree needs to score one more run to move alone into second-place all-time in program history.
Senior outfielder Natalie Schilling has been successful in each of her last 26 stolen base attempts, dating back to April 6th, 2018.
The matchup versus North Alabama will be the second true doubleheader played by the Govs this year.