APSU Sports Information

Clarksville, TN – After splitting its opening two Ohio Valley Conference games on the road last weekend, the Austin Peay State University (APSU) softball team will welcome Belmont and Tennessee State to Cathi Maynard Softball Park this Friday and Sunday afternoon to open its home slate of conference contests.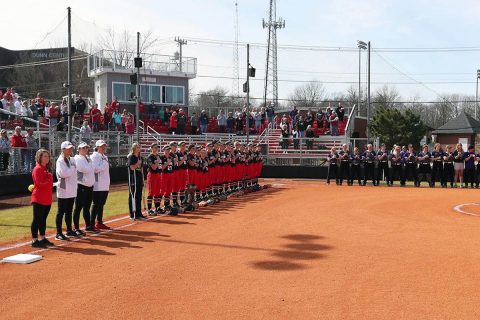 The Govs (16-14, 1-1 OVC) open play, 4:00pm, on Friday with a doubleheader versus Belmont, while Sunday's doubleheader versus Tennessee State is scheduled to begin at 1:00pm.
Sunday's games versus TSU will also be Alumni Day for the Govs, with a tailgate and food for all returning softball alumni.
After its first 30 games, the Govs offense is led by senior Danielle Liermann, who is hitting at a .343 clip, with five doubles, 11 home runs and 23 RBIs.
Liermann is followed by a trio of teammates also hitting .320-or-better this season, starting with junior Kelsey Gross (.337, 2 HR, 14 RBI) and followed by seniors Carly Mattson (.326, 6 HR, 20 RBI) and Kacy Acree (.320, 5 HR, 19 RBI).
In the circle, Morgan Rackel has been the workhorse of the Govs staff posting a 12-5 overall record with a 2.34 ERA in 107.2 innings of work, while striking out an Ohio Valley Conference high 123 batters this season.
Kelly Mardones follows at 3-8, with a 4.38 ERA and 23 strikeouts in 64 innings pitched, while Gross rounds out the staff with a 1-1 record – with two saves — a 2.22 ERA and 22 strikeouts in 28.1 innings.
About the Belmont Bruins

The Belmont Bruins (19-10, 2-2 OVC) enter Friday's matchup with the Govs having split its two OVC-opening home doubleheaders last weekend versus UT Martin and Southeast Missouri.
Belmont is led offensively by Baylee Cook (.355, 3 HR, 20 RBI), Hayley Baker (.319, 4 HR, 26 RBI) and Alicia Veltri (.301, 5 HR, 25 RBI).
In the circle, the Bruins have one of the better 1-2 duos in the conference as their top two starters, led by Brooklin Lee (9-4, 1.59 ERA, 89 K's) and Veltri (9-4, 1.71 ERA, 86 K's).
About the Tennessee State Tigers

The Tennessee State Tigers (5-15, 0-4 OVC), who play at Murray State on Friday, enter the weekend's action having dropped their last seven games, including two home conference doubleheaders last weekend versus Southeast Missouri and UT Martin.
They have two players hitting above .300 on the season, led by Bri Vire (.397, 0 HR, 5 RBI) followed by Reese Weber (.349, 0 HR, 9 RBI).
In the circle, Raven Loveless has been the Tigers workhorse, posting a 4-5 record, a 3.31 ERA and 35 strikeouts in 61.1 innings pitched.
APSU Governors Hit and Run
Senior third baseman Danielle Liermann enters the weekend's action needing three hits to reach 200 for her career.
Senior pitcher Morgan Rackel needs two strikeouts to move into fourth-place all-time strikeouts by an APSU pitcher (329).
Senior outfielder Natalie Schilling needs two stolen bases for 50 in her career.
This weekend's doubleheader mark just the second and third times the Govs will have played at home this season.
The Govs four-year seniors need one win to move into a tie for fifth place for most wins by a senior class in program history (82).