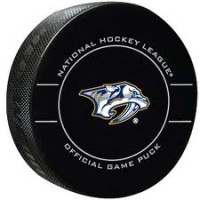 Nashville, TN – The Nashville Predators were thumped by the Columbus Blue Jackets tonight in Nashville, 5-2. Columbus is fighting for a spot in the playoffs and played like their hockey lives depended on it tonight.
Scoring just fifty seconds into the contest, the Blue Jackets set the tone early and went on to dominate the Predators on their home ice.
Nashville is still tied with the Winnipeg Jets for first place in the central division of the Western Conference, but the St. Louis Blues posted a win tonight and inch to within two points of the leaders. The final week of the regular season is going to be a doozy.
Cam Atkinson scored the first goal of the night for Columbus taking a pass from Artemi Panarin to fire a shot past Predator goalie, Juuse Saros for the 1-0 score.
Viktor Arvidsson answered back for Nashville at 8:50 of the opening frame, scoring on a breakaway, shorthanded, to tie the score, 1-1.
David Savard, Oliver Bjorkstrand, Boone Jenner, and Cam Atkinson would all add goals to the final tally for Columbus who skated away with an easy win in the Music City.
Filip Forsberg would score the only other goal for the Predators at 12:14 of the second period and your final score would be 5-2.
Columbus is currently the second wildcard team in the Eastern Conference playoff picture tied with Montreal with 92 points each, but with a game in hand over the Canadiens.
Nashville sits atop the central division with the Jets at 94 points and St. Louis with 92.
The Predators have three games remaining on the regular season schedule, traveling to Buffalo on Tuesday night, then returning to host the Vancouver Canucks on Thursday night and the Chicago Blackhawks on Saturday night.
Nashville has clinched a playoff berth but the only question is who they will play and when. The Stanley Cup playoffs begin on April 10th.