APSU Sports Information
Morehead, KY – In a quick weekend trip to Kentucky, the Austin Peay State University (APSU) beach volleyball team split its doubleheader against Morehead State, Saturday afternoon, in ASUN Conference play.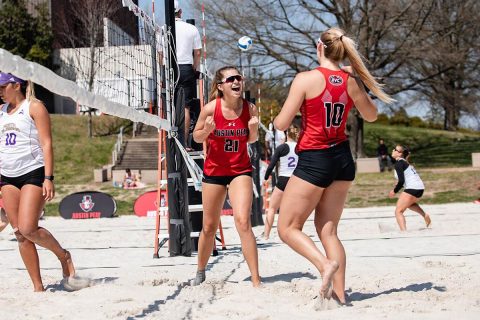 The Governors (6-10, 2-2 ASUN) took the first match of the afternoon against the Eagles (9-4, 1-1 ASUN), 3-2, to secure their first road victory of the season.
MiMi Arrington and Caroline Waite gave the Govs their first points of the afternoon in the No. 5 pairing after defeating the Eagles' Chandler Clark and Lauren Rokey in straight sets, 21-14, 21-19.
Ciera Koons and Brooke Moore in the No. 3 pairing gave the Governors a 2-1 lead after they defeated Morehead State's Georgia Childers and Olivia Montelisciani in straight sets, 21-12, 21-17. The deciding point was in the No. 2 pairing, as Jenna Panning and Haley Turner came out on top against Olivia Lohmeier and Margaret Musselman of Morehead State, 21-18, 21-15.
Both teams suited back up after match one was finished and both teams understood that another battle was about to commence. Arrington and Waite were not done giving the Governors points for the afternoon as they defeated Clark and Rokey yet again in straight sets, although both sets went into extra volleys, 23-21, 23-21
Panning and Turner had the same mindset and again defeated Morehead State's Childers and Musselman in straight sets, 21-19, 21-17, at the No. 2 pairing. Ginny Gerig and Cori Theiss fought hard in the No. 1 pairing, forcing the Eagles' Hannah Keating and Allison Whitten into a three-set finish after taking the first set, 21-19, but came up short as Keating and Whitten took the final two sets, 21-15, 15-11. The Eagles took the second match of the day, 3-2.
The Governors head back home to face UT Martin and the Skyhawks for the first time this season in a doubleheader, Wednesday afternoon. Be sure to follow the Govs on Twitter at @AustinPeayBVB for updates throughout the season and come out to support the Govs on Wednesday.
Box Score
Match 1: Austin Peay 3, Morehead State 2
1. Hannah Keating/Allison Whitten (MOR) def. Ginny Gerig/Cori Theiss (APSU) 21-12, 19-21, 15-10
2. Jenna Panning/Haley Turner (APSU) def. Olivia Lohmeier/Margaret Musselman (MOR) 21-18, 21-15
3. Brooke Moore/Ciera Koons (APSU) def. Georgia Childers/Olivia Montelisciani (MOR) 21-12, 21-17
4. Liz Allen/Hannah Mabrey (MOR) def. Chloe Stitt/Lucy Randall (APSU) 21-19, 21-14
5. MiMi Arrington/Caroline Waite (APSU) def. Chandler Clark/Lauren Rokey (MOR) 21-14, 21-19
Match 2: Morehead State 3, Austin Peay 2
1. Hannah Keating/Allison Whitten (MOR) def. Ginny Gerig/Cori Theiss (APSU) 19-21, 21-15, 15-11
2. Jenna Panning/Haley Turner (APSU) def. Georgia Childers/Margaret Musselman (MOR) 21-19, 21-17
3. Olivia Lohmeier/Olivia Montelisciani (MOR) def. Brooke Moore/Ciera Koons (APSU) 21-13, 21-19
4. Liz Allen/Hannah Mabrey (MOR) def. Karli Graham/Aysha Hood (APSU) 21-16, 21-12
5. MiMi Arrington/Caroline Waite (APSU) def. Chandler Clark/Lauren Rokey (MOR) 23-21, 23-21
Ext. Nina Korfhage/Claire Darland (APSU) def. Jess Hall/Karlee Reynolds (MOR) 21-16, 21-12