Austin Peay State University Sports Information
Conway, SC – The Austin Peay State University (APSU) beach volleyball team split its final matches of ASUN Conference play against Coastal Carolina, 0-5, and Jacksonville State, 3-2, in day two of the Conway Classic, Saturday morning.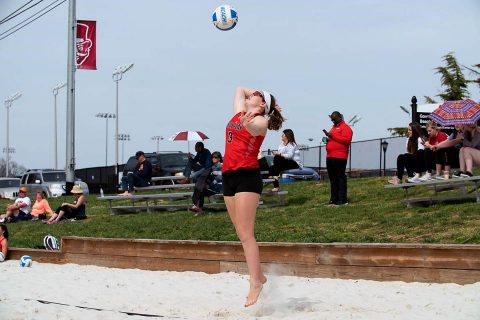 Austin Peay finished with a season sweep against Jacksonville State after edging out a 3-2 victory.
The Govs and the Gamecocks competed at 11:00am and four of the five pairings ended in a three-set finish.
In the No. 5 pairing, MiMi Arrington and Caroline Waite had a back-and-forth affair with JSU's Addie Halverson and Grace Jarnagin going to a three-set finish after the Govs lost the first set, 12-21, but bounced back in the second set, 21-16, and finished off the Gamecocks in the third, 15-10.
Ciera Koons and Brooke Moore in the No. 3 pairing for the Govs cruised their way into a win after defeating the Gamecocks' Taylor Wooldridge and Ashley Pettibone in straight sets, 21-11, 21-14. In the No. 4 pairing, Lucy Randall and Chloe Stitt took the first set from JSU's Maddie Cloutier and Lena Kindermann, 15-21, before falling in the second and third set, 21-18, 15-12.
Haley Turner and Jenna Panning added another win to their record in the No. 1 after defeating Katie Will and Shayla Schmidt in straight sets, 21-18, 21-17.
The Governors started the day against the host Coastal Carolina at 9:00am Saturday. In the No. 3 pairing, Brooke Moore and Ciera Koons battled with CCU's Tanner Gauthier and Kate Federico into three sets. Koons and Moore took the first set, 21-19, and went into extra volleys in the third set before falling, 17-15.
Austin Peay wrapped up ASUN Conference play and will head to UT Martin to face the Skyhawks in a doubleheader for the second time this season, Wednesday, April 10th, before returning home to host the Govs Beach Bash, Friday and Saturday.
Box Score
Austin Peay 0, Coastal Carolina 5
Austin Peay 3, Jacksonville State 2