Nashville, TN – Five members of the Austin Peay State University (APSU) women's tennis team earned All-Ohio Valley Conference honors, along with head coach Ross Brown winning the Coach of the Year award, as announced at the conference banquet, Thursday.
Brown earns his second career OVC Coach of the Year honor, adding to the 2015 award he won with the men's program.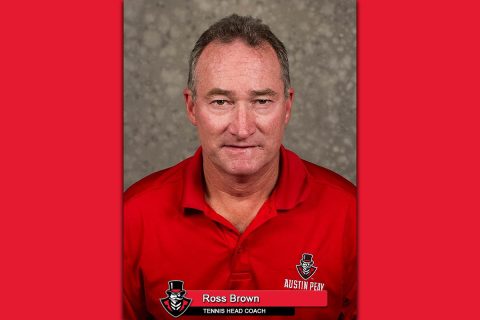 Brown has guided the Governors to their first OVC Regular Season title since 1989 and an unbeaten season. The 20-0 record makes Austin Peay the lone unbeaten NCAA Division I women's tennis program in the country.
The Govs were led by senior sisters Claudia Yanes Garcia and Lidia Yanes Garcia garnering First-Team All-OVC honors.
Claudia bounced back after an injury caused her to miss about half of the season last year. The Spaniard put together a 17-2 dual record in singles, including embarking on a 14-match win streak, which is fourth all-time in program history. She moved up to the No. 1 singles spot at the start of conference play, putting together a 6-2 record.
Lidia joins Shannon Peters (1988-1991) to become only the second Governor in program history to be named All-OVC four years in a row. She has a 19-1 overall record in singles this spring and has won her last 11 singles matches. Together with her sister Claudia, the duo is 14-4 in the spring in doubles play. They enter the OVC Tournament with an 11-match win streak, which is second in program history behind the active streak of teammates Honoka Nakanishi and Tatiana Lopez (12).
Lopez, Fabienne Schmidt, and Helena Kuppig also earned Second-Team All-OVC honors. Lopez, a junior transfer from Kansas, has given the Govs much-needed depth at the top end of the lineup.
Lopez boasts a 17-2 spring record in singles, including a 7-1 OVC mark, playing exclusively at the No. 3 spot. She has teamed Nakanishi, a freshman, with the pair playing all conference matches at the No. 1 position. They are currently on a 12-match win streak, which is the current program record.
Schmidt, who was OVC Freshman of the Year last season, won her second All-OVC honor in as many years. The sophomore missed the beginning of the dual match season and lost her first match back due to injury, but returned with a vengeance, winning her last 11 singles matches at the No. 4 spot to end the season.
Schmidt was one of three Govs (L. Yanes Garcia, Kuppig) to go 8-0 in OVC singles play. Schmidt went 8-2 in doubles this spring, primarily playing with freshman Danielle Morris at the No. 3 doubles position.
Kuppig wins her second career Second-Team All-OVC honor after a fantastic singles campaign. Kuppig is 17-1 in dual matches this season and enters the OVC Tournament with a 16-match win streak. The streak is tied for third all-time in program history (L. Yanes Garcia) and is only behind Vanja Tomic's streaks of 17 and 20.
The Govs are the No. 1 seed in this weekend's OVC Tournament and will play the winner of Belmont and Southeast Missouri at 10:00am, Saturday, at Centennial Sportsplex in Nashville Tennessee.