Charleston, IL – The Austin Peay State University (APSU) baseball team pounded out 34 hits, a program-record, to blow out Eastern Illinois, 29-4, Saturday, May 11th in Ohio Valley Conference action at Coaches Stadium.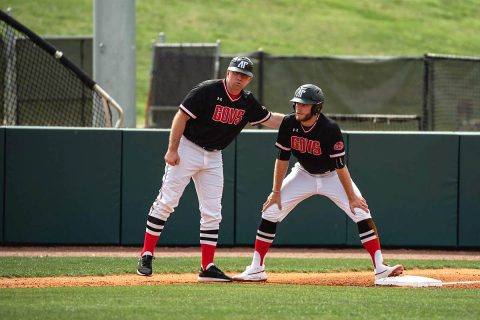 Austin Peay's (28-20, 18-8 OVC) 34-hit day broke the program record of 33 hits set in 2007, and they came one run shy of tying the program's scoring mark set in 1998.
Sixteen different Governors recorded a hit in the contest, 11 of those posting multi-hit outings.
Included in the day's hit tally were six home runs – two shy of tying the program record. In fact, it was a grand slam by left fielder Aaron Campbell that opened the scoring in the first inning. Right fielder Parker Phillips added a three-run homer in the third to help extend the lead to 14-0.
Two innings later catcher David Martinez joined the home run parade with a solo shot. His brother, Sebastian, made his first collegiate hit a memorable one with a three-run home run in the eighth inning. The duo became the first brothers known to post home runs in the same game in program history.
However, the Govs had not finished their home run barrage. Two batters after Sebastian Martinez' home run, catcher Alex Sala powered his second home run in seven days to right field. Shortstop Bobby Head capped the day with a two-run home run to left field.
Austin Peay starting pitcher Jacques Pucheu (7-3) backed up the offensive outburst with five scoreless innings of work for his seventh win. He struck out five batters while scattering two hits and two walks before seeing his day end early for extra rest before next week's outing.
Eastern Illinois (24-26, 13-16) would break up the shutout bid against the Governors bullpen in the sixth when an error assisted in a run-scoring single. The Panthers would tack on four runs in the ninth, designated hitter Jimmy Huber hitting a solo home run to right field, but it was too little too late.
Campbell, who left Game 1 of the series early due to injury, returned with an impressive 4-for-6 outing that included Govs season-high tying seven RBI. Phillips went 3-for-4 with four RBI and scored four times. First baseman John McDonald went 4-for-6 with an RBI.
Huber came off the bench to lead Eastern Illinois' nine-hit outing with a 2-for-2 performance.
Third baseman Christian Pena and first baseman Hunter Morris each had two hits.
EIU starter Foster Anshutz (6-2) suffered the loss after allowing 13 runs on 13 hits in two-plus innings of work.
Moment That Mattered
The Govs got their first rally started with shortstop Garrett Kueber's one-out double. The Panthers intentionally walked right fielder Parker Phillips and then center fielder Garrett Spain was hit by the first pitch of his plate appearance, loading the bases. Right fielder Aaron Campbell made sure they didn't stay loaded for long, hammering the first pitch he saw for a grand slam that set the tone for the game's remainder.
Water Cooler Chatter
Brotherly Bombs
David Martinez and infielder Sebastian Martinez showed power runs in the family during the Govs rout. David hit his sixth home run of 2019 with a solo homer to left center in the fifth inning. Three innings later, Sebastian showed off his swing with a three-run home run to right center in the eighth. They became the first known brotherly duo to hit a home run in the same game in Governors history.
Numbers Game
16 of the 17 Governors who had a turn at the plate recorded base hits. Eleven of those batters posted a multi-hit outing, and 11 had an extra-base hit. Tyler Thompson and Ryan Kouba, who are primarily pitchers, each recorded their first base hits as Governors. Austin Peay also set a record for most total bases in a game, finishing with 61 total bases – a 1.052 team slugging percentage.
Ten To The Plate X 4
Austin Peay sent 10 men to the plate in the first, third, fifth and eighth innings in Saturday's win. Those four frames accounted for 23 of the Govs 29 runs in the contest. All told, the Govs sent 64 men to the plate.
OVC Race Update

Austin Peay and Jacksonville State again will finish the day tied atop the OVC standings. For the second straight day, the Govs romped at Eastern Illinois, and for the second straight day, Jacksonville State defeated SIU Edwardsville with a walk-off home run. That leaves the Govs and Gamecocks tied at 18-8 with four games each left while Belmont slipped to 1.5 games back
Next Up For APSU Baseball

APSU Baseball and Eastern Illinois conclude their three-game OVC set with a 1:00pm, Sunday contest at Coaches Stadium.