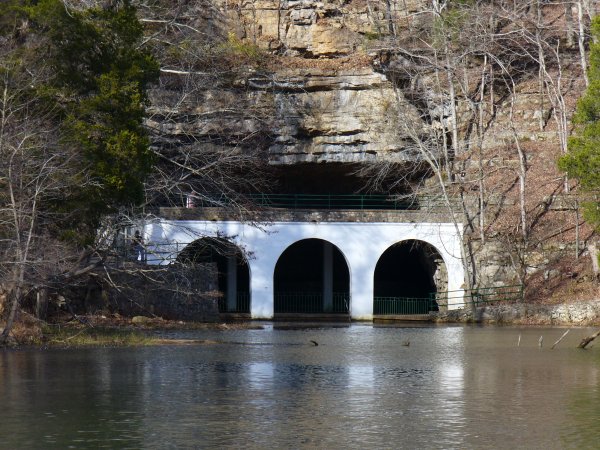 Clarksville, TN – The Friends of Dunbar Cave hosted its annual Cooling at the Cave on Saturday, July 27th, 2019, drawing what some said was the largest crowd ever for the event that takes the citizens of Clarksville more than half-a-century back in time.
Hundreds enjoyed the music of Clarksville's own Cumberland Winds Jazz Project, under the direction of Mike Ritter. The band set up near the mouth of the cave, from which spills cool air year round. A feature that decades ago made Dunbar Cave the most popular venue in town.
Cooling in the Cave recalls an important chapter in Clarksville's history.
In 1948, Roy Acuff, already a country music legend and Grand Ole Opry star, purchased the cave and surrounding land. He built what is now Swan Lake Golf Course, and would host live music events throughout the year at the mouth of the cave.
Dunbar Cave became a hot spot for local residents during the big band era. Acuff's shows would provide big-name entertainment, great natural acoustics and cool temperatures, making it the place to be, especially on those hot summer nights. Acuff's radio show was broadcast from the cave, and he would often hold dance nights as well.
The non-profit Friends of Dunbar Cave strives to "promote, protect and preserve the natural and cultural resources of the State Natural Area". Its partnership with Mike Ritter and the talented musicians of the Cumberland Winds Jazz Project has successfully introduced a new generation of Clarksvillians to the once-great venue.
Ritter and his band artfully brought to life songs from the big band era, with Ritter introducing each song, and sharing its history. He would credit the songwriters and original bands, and remind the older listeners of where and when they might have heard it before.
This year, thanks to special guest vocalist Sarah Queen, the audience was also treated to some newer arrangements, with songs by the likes of Natalie Cole, and Santana.
And, of course special thanks goes out to the Friends of Dunbar Cave volunteers for the homemade refreshments. All that and good weather too, it was a great afternoon at the cave.
Photo Gallery