Raleigh, NC – The Austin Peay State University (APSU) volleyball team fell in a three-set decision (14-25, 13-25, 24-26) to host North Carolina State in the opening match of the Wolfpack Invitational, Friday afternoon at Reynolds Coliseum. APSU junior Jenna Panning had eight kills and two blocks for APSU.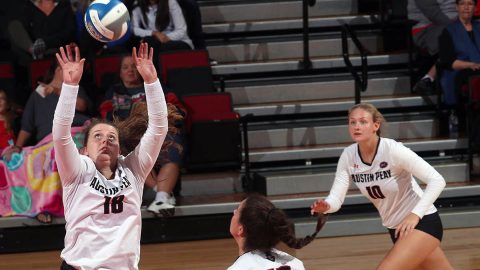 North Carolina State (1-0) jumped out to early leads in both the first and second sets. Austin Peay State University would show signs of snapping out of the slow start midway through each frame but saw their comeback stall each time as the Wolfpack struck out to a 2-0 lead.
APSU (0-1) would make a lineup change in the third, and the move appeared to pay dividends immediately as they would trade the first 12 points with North Carolina State. A Brooke Moore kill would give the Govs their first lead at 7-6 in the third and APSU would extend that lead to four points at 11-7.
The Govs would hold that lead until the set's closing moments and led 23-19, but could not fend off a late Wolfpack run spearheaded by Melissa Evans. The Wolfpack scored seven of the final eight points behind Evans' last effort that saw her post five kills down in that closing run.
Panning led the Govs with 10 points (8 kills, 2 blocks) and was tied with junior Chloe Stitt with eight kills. Junior Caroline Waite made the start at setter and finished with 15 assists. Senior Ginny Gerig Busse recorded 15 digs. Freshman Tegan Seyring impressed in her first outing, scoring six kills and posting a team-best .417 attack percentage.
North Carolina State's Evans finished with a match-best 14 kills and a .364 attack percentage while also chipping in four blocks.
Set-By-Set
Set 1. The Wolfpack opened the match with an 8-2 run before the Govs were able to post back-to-back points. Later in the frame sophomore Aysha Hood and Panning were responsible for the first two points in a five-point burst that cut into the deficit, but NC State scored five straight later in the frame en route to a 25-14 victory.
Set 2. North Carolina State struck for the second set's first six points and again led at 8-2. The Govs showed signs of getting back into the set as Panning, freshman Tegan Seyring and junior Chloe Stitt recorded three consecutive kills. However, that got the Govs to within seven at 15-8, and they would not be able to close the gap further.
Set 3. APSU head coach Taylor Mott made a lineup change as Claire Darland and Kelsey Mead each were on the court to start the frame. In response, the Govs exchanged points with the Wolfpack until Seyring and junior Brooke Moore posted back-to-back kills for a 7-6 lead – the Govs first of the match. Austin Peay extended its lead to four points at 11-7 after a Mead service ace and nursed that lead to 23-19. However, NC State's Melissa Evans took over down the stretch scoring five kills in the final seven rallies to hand the Wolfpack a come-from-behind 26-24 win.
Notes
Quiet Start, Big Finish
Austin Peay State University's offense couldn't find its rhythm in the season's first two sets, scoring 13 kills. However, they finished with encouraging signs for the future behind a 17-kill outing in the third set. Panning led the way with six kills (12 attempts) in the final frame while freshman Tegan Seyring and junior Chloe Stitt each added four kills.
Freshmen Debut
A pair of freshmen made their debut in the season opener. Seyring stood out with her six-kill performance – four kills coming in the third set. Kelsey Mead was one of the changes to the starting lineup in the third set and made her mark with a pair of service aces and five assists.
Quotably Taylor Mott
"It's going to take time to figure out what our best lineup is going to be. We saw some positives in the third set so we're hopeful we can build on that."