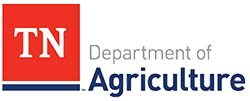 Nashville, TN – Tennessee Department of Agriculture says with summer winding down and many types of produce hitting their peak harvest in Tennessee, there has never been a better time to visit a farmers market.
Farmers markets still have an abundance of fresh tomatoes, squash, zucchini, peppers, and more at this time of the year. Many markets also offer hand-made artisan products, including soaps, essential oil blends, and beeswax items.
With the addition of a new farmers market in Tullahoma, Coffee County residents and visitors now have even more access to fresh and locally-produced food. "Our customers are supporting vendors from seven counties, and our vendors are helping the Tullahoma community have greater access to fresh foods," market manager Lynne Atkielski said.
Another new farmers market in Hardeman County features flowers, teas, and goat milk products. "Our city is utilizing this market as a source of healthy foods and products that are not available without a 20 mile drive," Lorie Rice with the city of Grand Junction said. "The community has been very supportive of this market and truly benefited from this alternative food source."
Are you looking for something to do on a Saturday? If you're in Bledsoe County, you'll notice that the Pikeville farmers market is the heart of the town's Saturday business. "Our market provides income to farmers and artisans that is essential to supporting their families," manager Melissa Mooneyham said. "It has inspired entrepreneurs, and it allows local farms to grow their businesses."
To help you make the best of your upcoming trips, the Tennessee Department of Agriculture's farmer-to-consumer program, Pick Tennessee Products, offers several resources to take advantage of farm-fresh bounty long after the kids are back in school. The Pick Tennessee Products website provides tips for successful farmers markets visits, a chart for when Tennessee produce is in season, and a calculator to help customers convert farm measurements to familiar kitchen measures.
The Tennessee's farmers markets directory can be accessed at www.PickTNProducts.org and via the Pick Tennessee mobile app. Follow Pick Tennessee on Facebook, Twitter, and Instagram for seasonal updates and information about farm-related events, activities, and products.