Columbia, MO – Junior Brooke Moore finished with a season-high 20 kills as teh Austin Peay State University (APSU) volleyball team dropped a four-set decision (25-23, 22-25, 19-25, 25-27) to Kansas City, Saturday morning, in the second of the Mizzou Invitational at the Hearnes Center.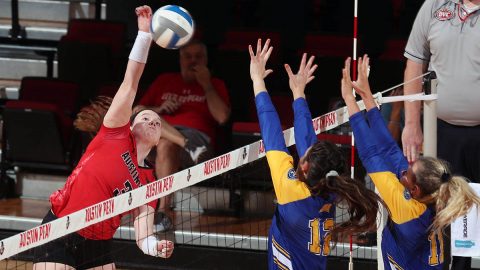 There was plenty of back-and-forth action throughout the match with the two teams battling through 26 ties and 13 lead changes in the four-set match.
In the decisive fourth set, APSU built an early lead and nearly carried that lead all the way to the finish. Kansas City used an 11-3 run to tie the frame at 20-20 and took the lead for good at 22-21.
The Govs would fend off a pair of match points in overtime, but a pair of errors turned the tide to the Roos favor.
Moore was one of three Governors hitters to find double-digit kill totals against the Roos. Junior Chloe Stitt had 13 kills and sophomore Jenna Panning notched a season-best 12 kills. Behind that trio's efforts, Austin Peay State University recorded season bests in kills (61) and attack percentage (.216).
However, Kansas City saw four players reach double-digit kill territory with Alcia Harrington's 16 kills leading the way. The Roos finished with 63 kills and a .266 attack percentage as a team.
Austin Peay State University concludes its three-day stay at Missouri with a 10:00am, Sunday contest against Northern Iowa.
Notes and Notables
Moore's 20s
Brooke Moore's 20-kill outing against Kansas City was the third of her career and one year to the day of her last 20-kill outing. She posted 21 kills against McNeese State one year ago at the Rice Invitational. Her career-high 22 kills came against Eastern Kentucky during the 2017 OVC Volleyball Championship.
30 For Waite
Junior Caroline Waite paced the Govs to their best offensive performance of the season courtesy a career-high 35 assists against the Roos. It was the first career 30-assist outing.
Graham Blocks
Sophomore Karli Graham was a big part of the Govs defense again, notching five blocks (two solo) against Kansas City to go along with five kills and two service aces. She has nine blocks in her last two outings, notching four against Boise State, Friday afternoon.