Clarksville, TN – On September 19th-20th, 2019, the Austin Peay State University (APSU) Board of Trustees will host its fall meetings on the APSU campus.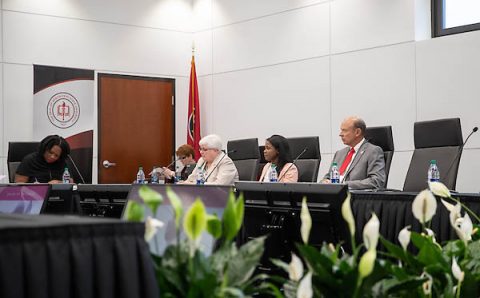 The Board's Academic Policies and Programs/Student Life Committee will meet at 1:30pm that Thursday, with the Business and Finance Committee, Executive Committee and Audit Committee meeting consecutively thereafter.
At the end of the Audit Committee meeting, the committee will go into executive session to discuss audit investigations. The full Board will meet at 9:00am on Friday, September 20th.
All meetings will take place at 317 College Street and, with the exception of an executive session, are open to the public.
The Board will discuss several important items, such as the status of the proposed Doctor of Psychology degree and the proposed naming of several athletic facilities. To watch the meeting live, visit http://www.apsu.edu/president/board-of-trustees/board-meeting-archived-videos.php.
To view meeting materials such as the agenda, visit https://www.apsu.edu/president/board-of-trustees/board-meeting-schedule-and-materials.php.
For information on the meeting, contact the Secretary to the Board at 931.221.7572.