Clarksville, TN – A return to Cincinnati for the 2020 season opener awaits the Austin Peay State University (APSU) football team which announced the final piece to its 2020 nonconference schedule, Wednesday.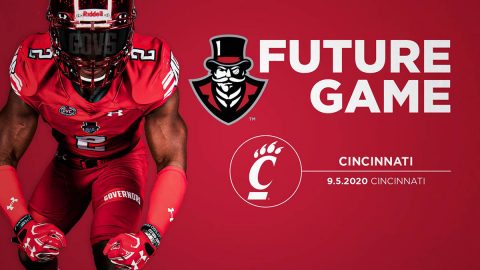 "We are excited to extend our relationship with Cincinnati by extending this series," said Austin Peay Director of Athletics Gerald Harrison.
"Governor fans have flocked to Nippert Stadium in the past and I am sure they will 'Fly the Gov' proudly as they travel to Cincinnati once again to kick off the 2020 season," Harrison stated.
The APSU Governors will return to Cincinnati three seasons after opening the 2017 campaign at Nippert Stadium. In that meeting, the Govs were within a touchdown of the host Bearcats until five minutes remained in the game with quarterbacks JaVaughn Craig and Jeremiah Oatsvall splitting time under center.
The trip to Cincinnati would be the seventh all-time for Austin Peay State University and third since 2011. The game also kicks off a nonconference slate that will see the Govs return their trip to Central Arkansas and will see ETSU visit Clarksville for the first time since 1977.
Last week, Austin Peay State University announced the addition of Western Kentucky to kick off its 2022 campaign and a home-and-home series with Southern Illinois in the 2023 and 2024 seasons.
APSU 2020 Football Nonconference Slate
September 5th at Cincinnati
September 19th at Central Arkansas
September 26th vs. East Tennessee