Clarksville, TN – The Austin Peay State University Department of Art + Design, with support from the APSU Center of Excellence for the Creative Arts, is pleased to welcome nationally recognized collage artist Deborah Roberts to the Austin Peay State University campus.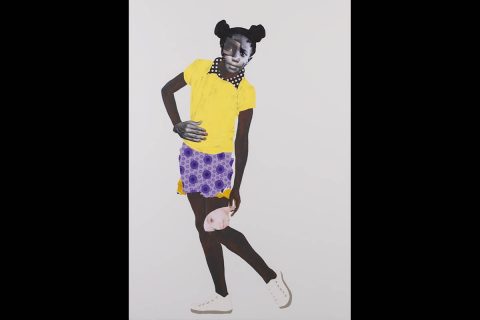 "I have been a fan of Roberts' work for years, and I am super excited for her visit," said Michael Dickins, chair of the Visiting Artist Speaker Committee.
"Her work investigates the way African American identities have been imagined and shaped by societal interpretations of beauty. She engages image-making in art history and pop culture, and ultimately grapples with whatever power and authority these images have had over the female figure. Again, I cannot thank CECA enough for its continuous support in bringing world-class artists to Clarksville," Dickins stated.
"Roberts will also conduct one-on-one studio visits with select students," Dickins added.
Robert's lecture, which is free and open to the public, will be at 6:00pm Tuesday, November 12th, in the APSU Art + Design building's Room 120.
Roberts is a mixed media artist whose work challenges the notion of ideal beauty. Her work has been exhibited internationally across the USA and Europe.
Her work is in the collections of the Whitney Museum of American Art, New York, New York; Brooklyn Museum, New York, New York; The Studio Museum in Harlem, New York, New York; Los Angeles County Museum of Art, Los Angeles, California; The Block Museum of Art, Evanston, Illinois; Blanton Museum of Art, Austin, Texas; Spelman College Museum of Fine Art, Atlanta, Georgia; Montclair Art Museum, Montclair, New Jersey; and The Frances Young Tang Teaching Museum and Art Gallery, Saratoga Springs, New York. Roberts is the recipient of the Anonymous Was a Woman Grant (2018), the Pollock-Krasner Foundation Grant (2016) and a Ginsberg-Klaus Award Fellowship (2014).
She received her MFA from Syracuse University, New York. She lives and works in Austin, Texas. Roberts is represented by Stephen Friedman Gallery, London, and Susanne Vielmetter Los Angeles Projects.
For more on Roberts and her work, visit www.deborahrobertsart.com.
For more on this lecture, contact Dickins at . All ages are welcome.