Clarksville, TN – The Austin Peay State University (APSU) men's basketball head coach Matt Figger has announced the addition of Merdy Mongozi and Elton Walker, the first two signings for the Govs in the 2019-20 early recruiting period.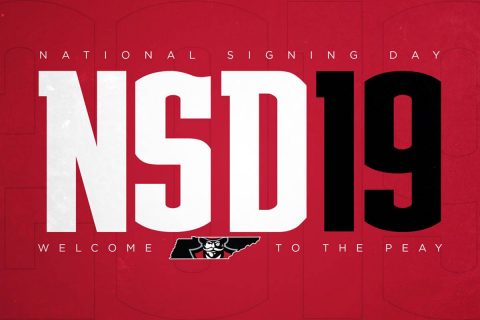 Mongozi, a 7-footer from the Democratic Republic of the Congo, joins the Govs after a stint at South Georgia Tech, while 6-5 wing Elton Walker will come to Clarksville following two seasons at Miami Dade College in his hometown of Miami.
Mongozi's path to Clarksville has taken him from tiny Carver Bible College in the NCCAA in 2018-19—where he blocked three shots against Wofford and five against Tennessee State—to South Georgia Tech this season, where his size and strength have been utilized to supplement his 3.9 points per game with 3.7 blocks and 5.0 rebounds; he's also hitting better than 57 percent from the floor for the Jets through seven games.
"He is a guy who we are expecting to come in and help from a rim-protection standpoint," Figger said. "He's got great length, great shot-blocking ability. He's a little raw offensively, but he's an active, lively rebounder, shot-blocker and runner of the kind that we haven't had since I've been here."
Walker got buckets as a freshman at Miami Dade, scoring 12.9 points per game and flashed athleticism on the offensive glass, ranking 71st in the NJCAA with 83 offensive rebounds. This season, he's helped the Sharks out to a 5-1 start by averaging more than 100 points per contest. Walker has been a big reason why, averaging 14.2 ppg on 48.5 percent shooting, paired with 7.7 rebounds per game for the athletic wing. He's reached double figures in all six games, including a 20-point night at Florida Southwestern State.
"He's a high motor, high-energy wing who plays above the rim," Figger said. "He can shoot really well, score in transition. What I really like is his capability to guard multiple positions; I love what he brings to the wing in terms of his size and versatility."
Early signing period closes Nov. 20. The regular signing period opens April 15, 2020.